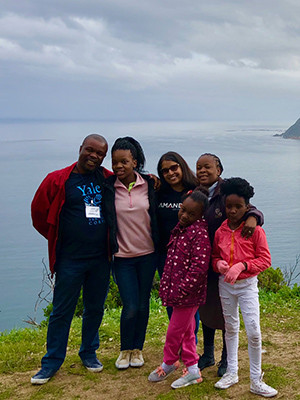 This summer, a group of 90 volunteers traveled to the Philippi Township of Cape Town, South Africa, on a Yale Alumni Service Corps trip, undertaking a broad range of service initiatives. In this first-person account, one of those volunteers, Monisha Merchant '04 M.B.A., describes her work helping students launch a series of student newspapers.
Item 16 in the Bill of Rights in South Africa states: (1) Everyone has the right to freedom of expression, which includes — (a) freedom of the press and other media; (b) freedom to receive or impart information or ideas; (c) freedom of artistic creativity; and (d) academic freedom and freedom of scientific research. 
During the 2018 Yale Alumni Service Corps (YASC) trip to Cape Town, more than 45 students at three high schools in Philippi Township worked with nine YASC volunteers to exercise their rights to freedom of the press and to impart information. The results were remarkable.
During the five, half-day day sessions, the YASC volunteers provided formal instruction about fact vs. opinion, sections of the newspaper, the roles of the editors and reporters, and the structure of a news story. The students learned how to ask hard-hitting questions during five press conferences, including with AYA Executive Director Weili Cheng and a local politician. We also gave optional homework assignments.
The student reporters came back each day with news stories about people in their neighborhoods, student and faculty achievements, and school policies. The editors huddled together to lay out the stories and provide feedback individually to the reporters.
Within five days, Growling Tigers, The Soph's Eye, and Zisu Bright Times were born.