Information Links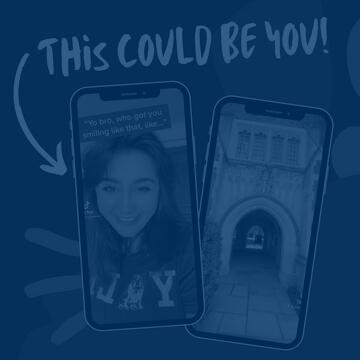 Become an Eli Ambassador Today!
Tell your original, authentic stories on @YaleAlumni TikTok and Instagram! 
As an ambassador, you'll share your alumni experience in quick social media videos with fellow and future Yalies. Plus, all ambassadors will receive a custom Yale swag bag as our way of saying thanks.
Ambassadors are being accepted on a rolling basis. 
Eli Ambassadors Will:
Conceptualize and produce videos for TikTok and Instagram
Commit to a six-video series (videos should be 60 seconds or less)
Deliver completed videos, descriptions, and music suggestions to YAA staff
Receive a custom Yale swag bag as a thank you
Requirements:
Yale College or graduate school or professional school alum
Some experience using Instagram or TikTok 
Comfortable creating, screen recording, and uploading videos
No existing follower requirements or public account requirements
Examples and Inspiration:
Things I learned at Yale that make a daily impact
A day in the life of a Yale alumni leader
How every day can be a Yale Day of Service
My favorite things to do on campus
Questions? Contact Carissa Violante, associate director for digital marketing at the Yale Alumni Association.