Steps away from the Pacific Ocean on a palm tree-lined street, laughter and conversation fill the air. The setting sun ignites a clearing California sky with shades of gold and bronze. And Yalies meet and mingle below glimmering lights.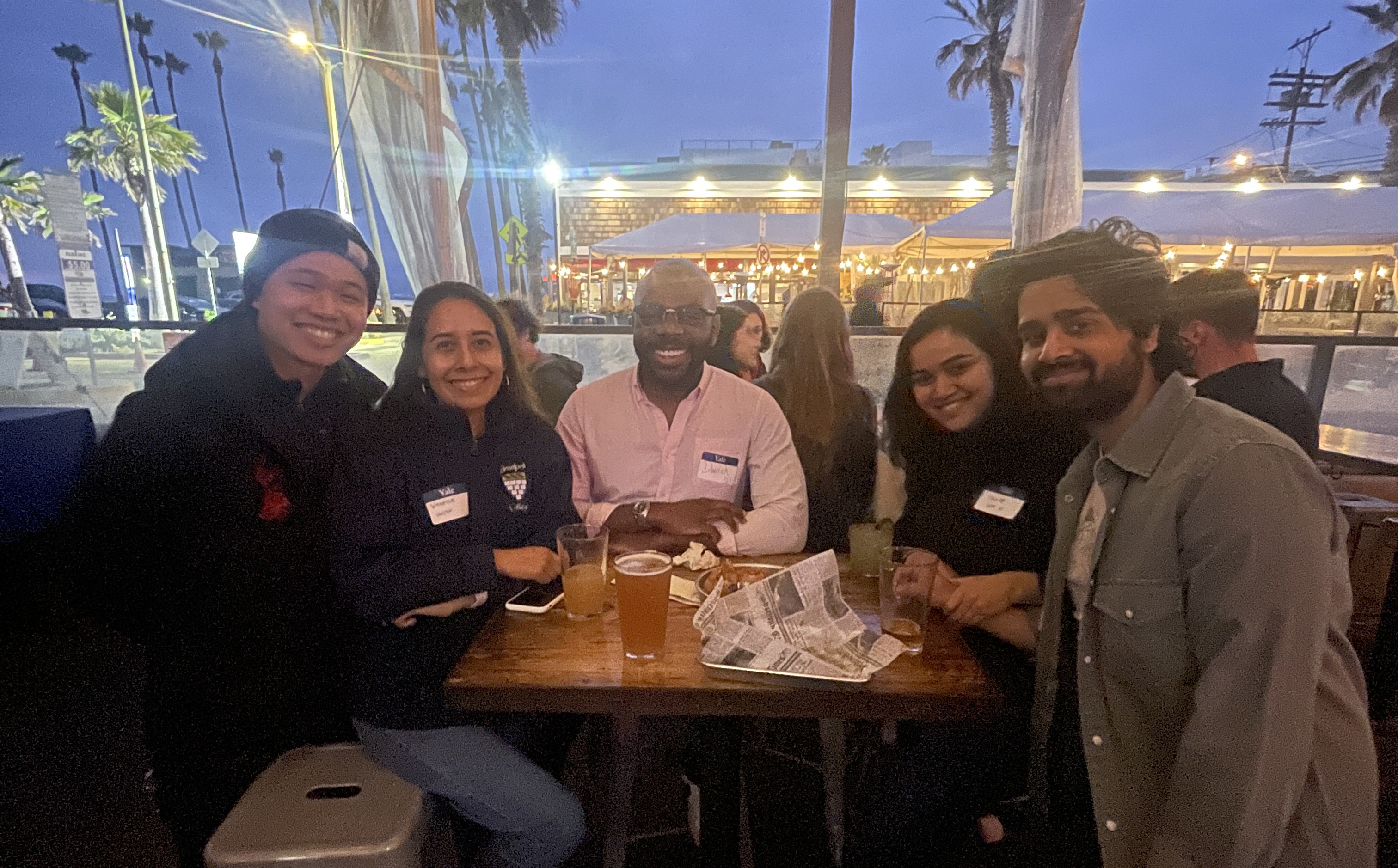 That was the scene Thursday night as the Yale Alumni Association's West Coast Weekend kicked off in Venice Beach, California. The Bulldogs of the Last Decade (BOLD) Happy Hour at the Venice Whaler was just the first of many stops on a tour aimed at fostering opportunities for connection between recent graduates and Yale clubs in the area. Yale Club of L.A. President Anita Wu '03, '06 JD  and Vice President Marcos Luis '07 were visibly present fixtures throughout the evening, welcoming attendees and closing the night with a celebratory toast recognizing the return of in-person programming.
From there, the weekend tour continued Friday morning with a BOLD grab-and-go coffee stop amid surfers and skateboarders in Santa Monica at Dogtown Coffee. Familiar faces from the night before returned for coffee and stayed for lasting conversation. The morning meetup offered a chance for alumni from other local areas to join the fun.
Jeannie Daniel, associate director for recent graduate engagement, spearheaded the BOLD-centered events.
"West Coast Weekend was the perfect way to kick off in-person events for our most recent graduates and welcome them into their local Yale communities," Daniel said. "Getting to meet alumni where they are and help them foster new friendships with the common Yale bond is always so inspiring."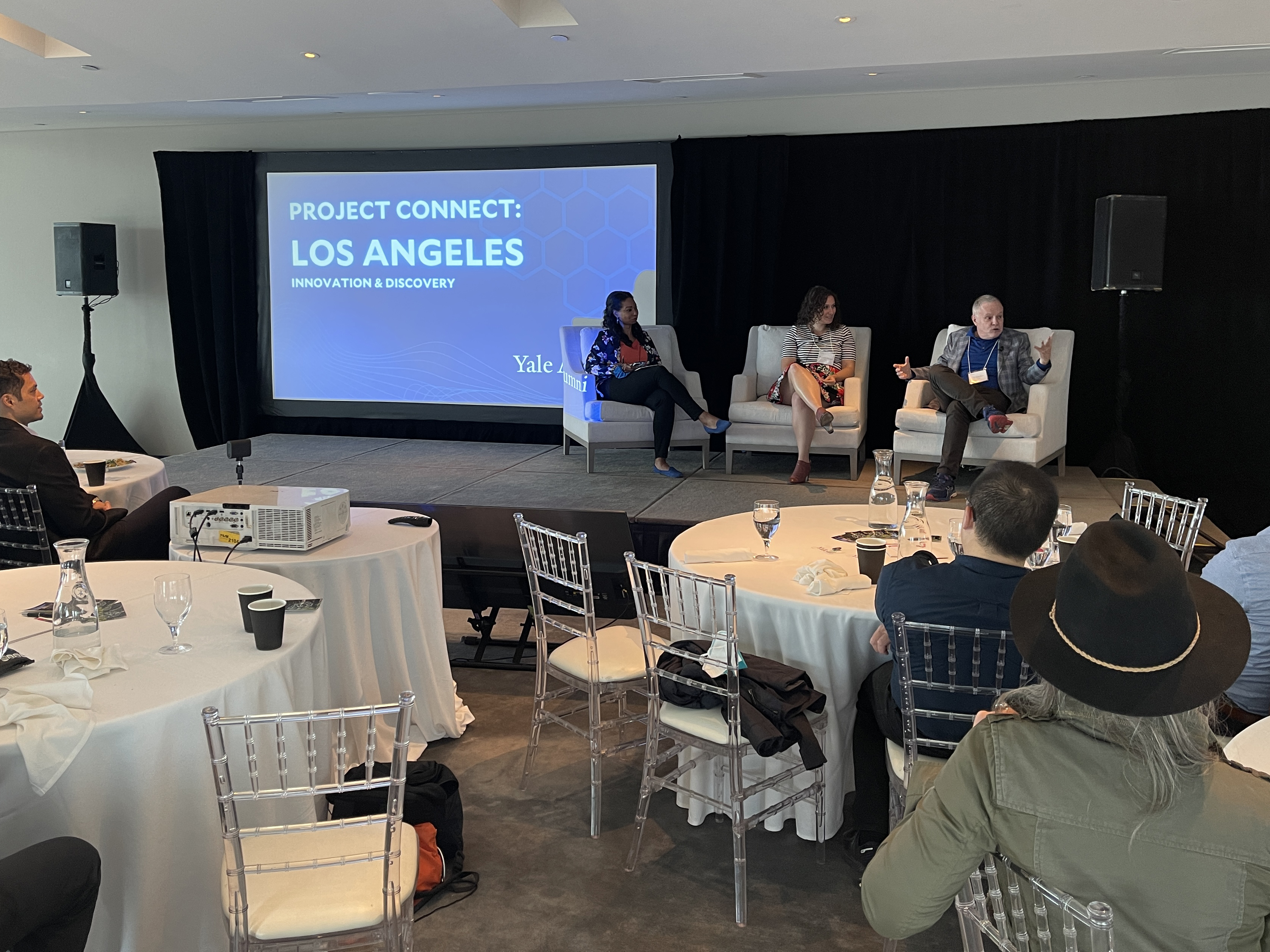 The cornerstone of the West Coast Weekend was Saturday afternoon's Project Connect Los Angeles. A collaboration between the YAA's shared interest and regional clubs groups, the event showcased the vibrant intersection of art, technology, and culture present in the region. From the top floor of the Andaz Hotel in West Hollywood, alumni of all ages enjoyed in-person networking while admiring a sprawling 180-degree view of the city.
The lunch-meets-lecture event featured Dr. Neal Baer, lecturer at Yale School of Public Health, and Lisa Messeri, assistant professor at the Yale Department of Anthropology. Their lectures and the concluding faculty talkback challenged audience members to consider emerging technology, public health, and how to lead efforts to positively impact the well-being of local communities now and in the future. A replay of the lecture, which was live-streamed, is available on YouTube.
The YAA's final stop on the whirlwind tour was a Sunday Funday full of yard games and sharing Yale memories at San Diego's Stone Brewing World Bistro and Gardens. Local alums had a chance to meet each other and were introduced to Shelby Courtney '01, '07 MDiv, the new president of the Yale Club of San Diego.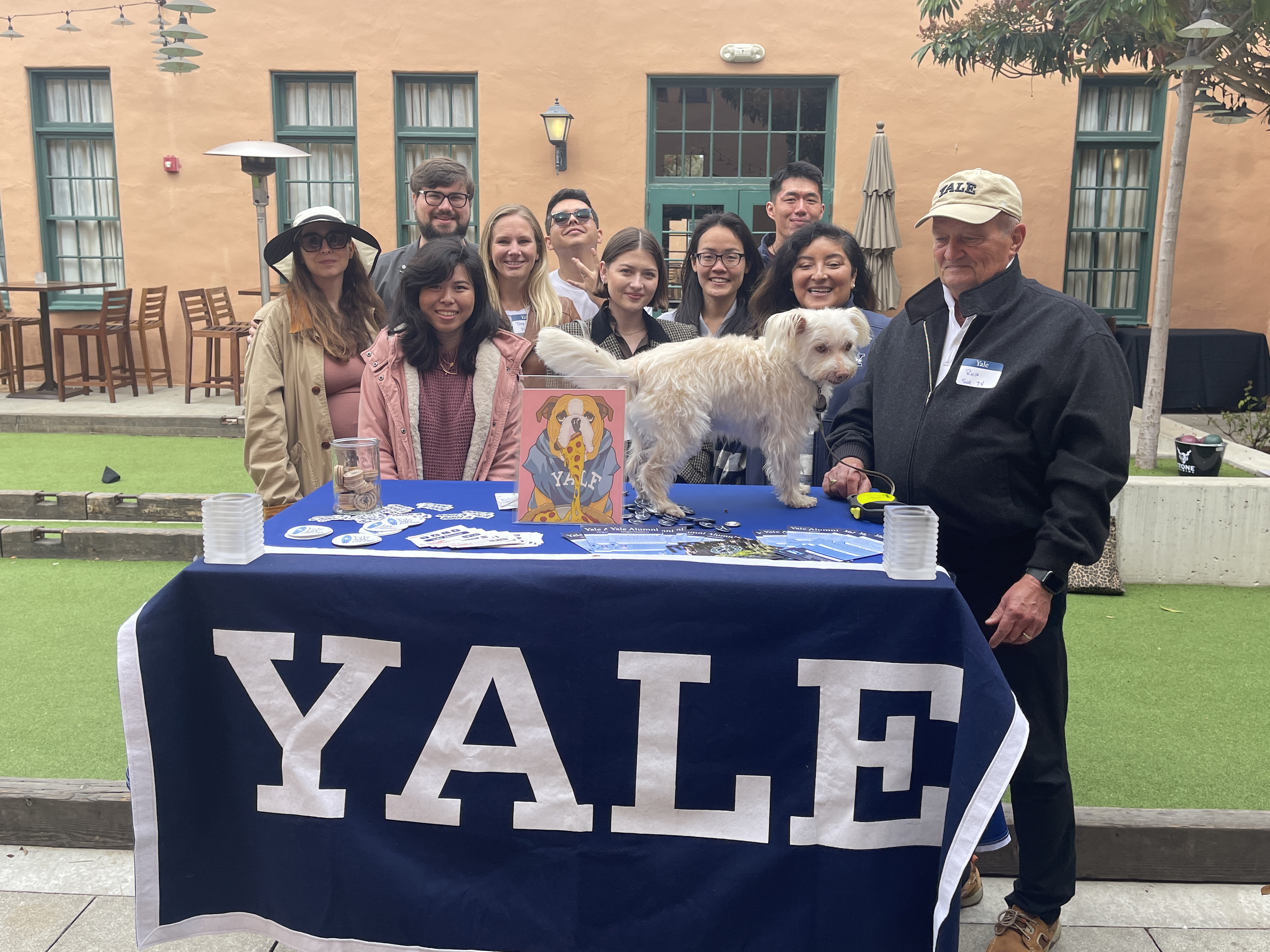 In attendance at both Saturday's Project Connect and Sunday Funday was visiting YAA Board of Governors member Benjamin Bartolome.
"I cannot thank the Yale Clubs of L.A. and San Diego enough for welcoming me to their events as someone who just happened to be in town," he said. "My first in-person Yale events since the pandemic, these were a whirlwind of excitement as it felt not too different from the campus experience: I got to see old friends and make new ones, play outdoor games, and learn from professors lecturing again.
"Especially as someone who works so closely with the YAA staff, it was so great getting to meet them in person finally and thanking them for helping to get us alumni back together in-person." 
On the heels of the West Coast Weekend tour, the future of in-person programming is looking bright.
"We were thrilled to be present in L.A. and San Diego to connect with the vibrant Yale communities in both areas," said Stefanie Stevens, associate director for Yale clubs.  "The L.A.- and San Diego-based clubs are excited to resume in-person activities, including hosting more faculty speakers, happy hours, family events and more.
"We encourage all alumni from all class years and programs to engage with the Yale community in their area."
You can find out more about regional clubs and other Yale-affiliated groups in your area on the YAA Groups page.