The Yale entrepreneurial community gathered Thursday, November 7, under the leadership of Accelerate Yale, a Yale Alumni Association shared interest group, to launch the Yale Angels initiative at Company in New York City. Yale Angels is an initiative that will connect entrepreneurs with investors, sparking innovation through connection and collaboration.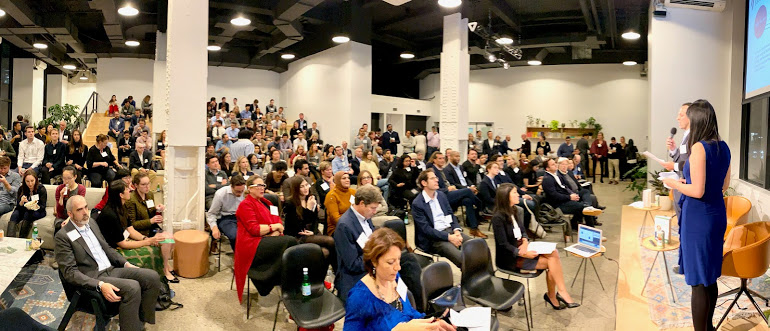 The launch event, which drew more than 200 attendees, was a brainchild of Accelerate Yale, organized by alumni leaders Sam Hendel '03, Grace Hsieh '07, and Wendy Maldonado D'Amico '93, and co-sponsored by the YAA, the Yale Office of Development, the Tsai Center for Innovative Thinking at Yale (Tsai CITY), and Company. Accelerate Yale is also led by Adam Brenner '05, Chris Brady '05, and James Murphy '11.
"We started Accelerate Yale three years ago as a nonprofit with an educational mission," said Hsieh. "We are proud to have cultivated a global community of alumni and friends of Yale who are engaged in innovation, tech, and entrepreneurship. Our goal is to support an active and thoughtful ecosystem that promotes meaningful connections and collaborations – while also serving as a bridge between alumni and current Yale students."
Added Hendel: "Yale Angels is the natural next step for our organization and the Yale entrepreneurial ecosystem. We believe in the virtuous cycle of bringing generations of alumni together to support Yale student and young alumni companies. Angel investment crosses generational barriers: it gives alumni an opportunity to reconnect to Yale, and students the knowledge that the alumni network is here to support them in their endeavors and dreams."
Programming for the event provided both educational and experiential mediums for the Yale community, along with networking. Programming kicked off with a tutorial delivered by David S. Rose '79, founder of New York Angels, CEO of Gust, and author of Angel Investing, where he shared tips for success in the "real world" of angel investing.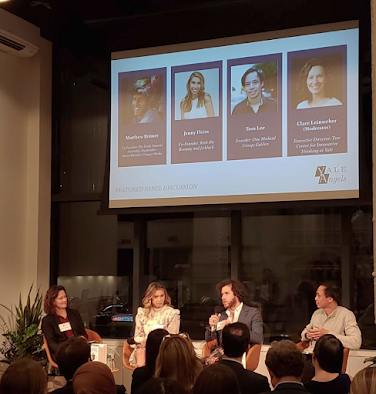 Clare Leinweber, Executive Director for Tsai CITY, moderated a panel of Yale alumni entrepreneurs that included Jenny Fleiss '05, co-founder of Rent the Runway and co-Founder and CEO of Jetblack; Tom Lee '90, founder of One Medical Group and Galileo; and Matthew Brimer '09, co-founder of The Fund, General Assembly, and Daybreaker.
The panelists spoke candidly about their experiences and challenges in getting their businesses funded and flying successfully, with Fleiss kicking off the discussion by identifying the hard pieces and lack of glamour. Lee, meantime, described the challenges of being an entrepreneur as "being on a rollercoaster, blindfolded." And Brimer spoke about the importance of loving adventure and exploration, as entrepreneurship is a journey into the unknown, its success hinged on able problem-solving.
Early-stage start-ups were also given a spotlight during the event. Hua Shu '19, co-founder of Typogram, spoke about the web-based custom brand builder that's tailor-made for entrepreneurs and small business-owners. Victor Hunt '18, co-founder of Astorian, presented his real estate business that won the NYU-Yale Pitchoff in 2018. Michael Chime '21, CEO of Prepared, leads the next generation of school safety and won the Tsai CITY Miller Prize for his business. And Manish Vora '02, CEO of the Museum of Ice Cream, spoke about his creative business and shared tasty treats following the presentations. Havenly Treats also shared delicious treats as a parting gift and presented their nonprofit business model that provides job training for women refugees who can "earn while they learn."
To augment the pre- and post-programming networking, Yale alumni founders of food and beverage start-ups fed and watered guests, with the lineup including Hank's Juicy Beef, Havenly, Junzi Kitchen, Luke's Lobster, Museum of Ice Cream, Ox Verte, and The Bronx Brewery.
"It's been immensely exciting to witness the entrepreneurial ecosystem at Yale grow and blossom over the last few years," said Ben Soltoff '19 MBA, '19 MEM, environmental innovation fellow with both Tsai CITY and the Center for Business and Environment at Yale. "Along with the establishment of Tsai CITY, the launch of Yale Angels is a critical signal that Yale is not only playing in the big leagues when it comes to innovation but also changing the game, by fostering ideas that are impactful and mission-driven."
###
Photo credits: Sebastian Tsai '22 & James Murphy '11