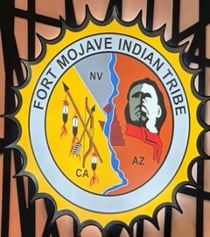 Join the Yale Alumni Service Corps (YASC) on a service trip to the Fort Mojave Indian Reservation to learn about Tribal Sovereignty, share your knowledge, and witness how Yale alumni are working with Tribal Communities to implement their goals. YASC has a unique opportunity to participate in a cross-cultural immersive learning experience with the Fort Mojave Indian Tribe on its remote Colorado River Reservation spanning 3 states. YASC, in conjunction with the Fort Mojave Indian Tribe, will work with students on a variety of education, culture, financial literacy and fitness & sports projects.
If you want to join us on this exciting intercultural program, please review the volunteer opportunities listed below. Alumni and Yale students from all classes, all graduate and professional schools are welcome. You will make new friends and contacts from all walks of life! As with all our programs, we hope you will find this trip to be unique and engaging.
The Fort Mojave Indian Tribe with YASC has prioritized these specialized projects:
• Robotics: The students at the Tribe's new Elementary School have mastered introductory Code.org and BeeBots and are eager to learn with more advanced projects, including Unreal Engine.
• Dance: Engage youth in high energy, fun dancing to contemporary music and show youth they can get exercise anywhere. (Previous projects included "Who Let the Dogs Out", "The Macarena" and "Cupid Shuffle").
• Education: Participate in "Career Day" and College Information presentations. Present seminars on the college application process. An opportunity to participate in the youth podcast program may also be available.
• Fashion Design: Assist students in the design and creation of contemporary fashion incorporating elements of the Fort Mojave culture in authentic, respectful, and fun ways.
• Financial Literacy: Assist students in Tribal Programs with early financial literacy.
• Fitness & Sports: Present basketball and other sports clinics.
For questions or further information feel free to contact trip producer Karen Green '78 or YAA Director, Service Programs, Joao Aleixo.