I think we can all agree that 2020 was a dark and terrible year in almost every way, and that we are glad to be done with it. Despite this, I'm pleased to report the Yale College Class of 1994 managed to find a few bright spots during 2020: Zoom sessions that gathered our classmates from around the world for the chance to commune on the bedrock of Eli nostalgia – and also to learn, discuss, and even celebrate.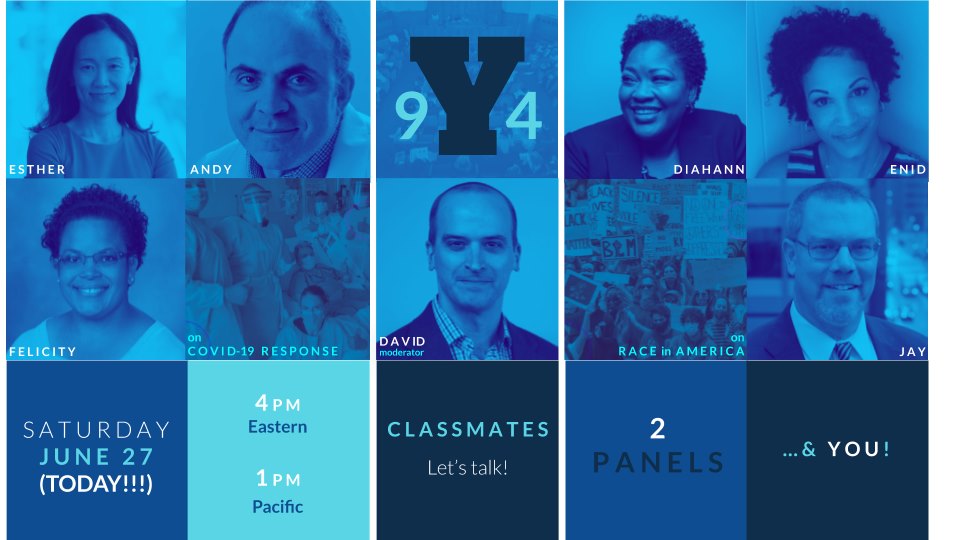 At the end of June, we held a Zoom event that was attended by around 175 of our classmates and that featured two panels on the very serious topics of the day. The first panel focused on COVID-19 and featured classmates Dr. Felicity Boyd-Enders, an epidemiologist at the Mayo Clinic; Dr. Esther Choo, an emergency room physician and medical equity expert at Oregon Health & Science University; and Dr. Andy Miller, an infectious disease doctor at New York's Hospital for Special Surgery. The second panel, on Race in America, featured Diahann Billings-Burford, CEO of Ross Initiative in Sports for Equality (RISE) in New York; Dr. Enid Logan, a professor in the Departments of Sociology and African American & African Studies at the University of Minnesota; and Jay Readey, a community development attorney and social entrepreneur in Chicago. The panels were moderated by David Leonhardt from the New York Times.
The discussions were serious, informative, and raw, and we were all impressed with the expertise of our classmates struggling with these important issues. Afterward, we took the intensity down a few notches by breaking into groups of five to six randomly sorted people for several short 10-15 minute sessions, to shoot the breeze and catch up.
Following a smaller event in August, with less of a set agenda – but with an online dance party at the end! – our class took a break until December 19, when we capped off 2020 with our first-annual 9Y4 Holiday Spectacular. The turnout was even stronger this time, with roughly 210 of our classmates assembling on Zoom. That's as many people as a Yale reunion! (Not a Y94 reunion, of course, which you may recall blew away all prior 25th reunion records, but maybe your class's reunion ;) … )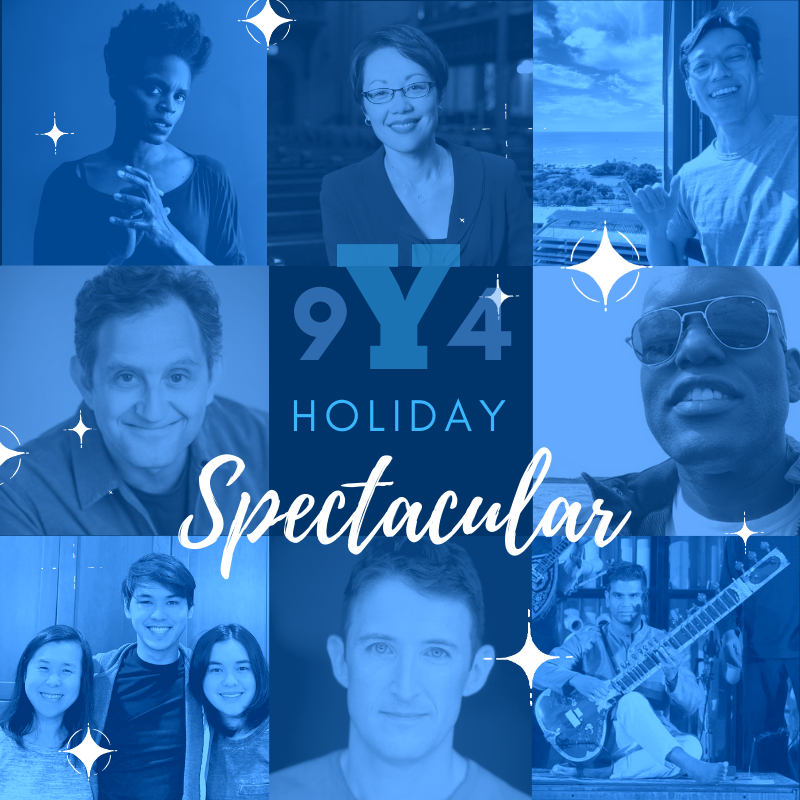 The people did not go away disappointed, and I expect we'll still be talking about the first Holiday Spectacular for years to come. Conceived by our Class Treasurer, Se Oh, and our incredibly talented former pitch of the Whiffenpoofs, Allen Murabayashi, we gathered eight classmates to perform, mainly on video. Allen and I gave some light, live interviews of each performer (generally, Allen asked coherent questions, and I followed up with dumb jokes to the dismay of all in the Zoom chat), and then we switched to their performance.
Dr. Sunny Park and her kids played Wham's "Last Christmas," with Sunny on ukulele, her hobby for the past decade in Pittsburgh. Broadway pianist Andrew Gerle sang and played a Christmas medley on piano, making the Spizzwinks(?) proud. Okwui Okpokwasili, a certified MacArthur Genius (!), performed a powerful piece called "Do Not Let Go," which was set on her Brooklyn rooftop. And Ronobir Lahiri, actor, singer, Angeleno, and crack sitarist, showed the kind of gumption no other performer was willing to exhibit and performed live: he absolutely shredded Matisyahu's "One Day."
Those were followed by three performances that Allen backed on keyboards. First, Eyan Mitchell, the sweetest-voiced CFO in all the land, sang Sting's "Fields of Gold," with Allen doing his part in the video from a Hawaiian beach. Rabbi Angela Buchdahl, normally accustomed to leading thousands of people from her Central Synagogue pulpit each week, delighted our relatively small crowd of 210 by singing beautiful rendition of "Somewhere Over the Rainbow." And finally, in an act that no one could possibly follow, musical theater actor (and renowned SAT prep tutor!) Nate Klau donned green makeup and an absurd Christmas outfit to steal the show with his rubber-faced version of "You're a Mean One, Mr. Grinch." Nate managed to feature his long-time, go-to breakdance move, the Worm, slightly attenuated 26 years out from college, but impressive nonetheless.
Afterward, we broke up into those small groups again, and I believe I can speak for all of us that this event, with the talent and camaraderie of our classmates, offered a boost of strength and spirit to get through the end of the year. To top it all off, the event raised more than $10,000 for charities chosen by our performers, ranging from food banks to refugee aid to funding for the arts. Special thanks go out to the dedicated group of about 10 Y94 classmates who helped in planning the events during the year.
We are now, like all of you, focused on making it through the rest of the pandemic with our physical and mental health intact. I, for one, can't wait to see everyone in person again – maybe in honor of our 50th birthdays in 2022.
***
Greg Raskin is the class secretary for the Yale College Class of 1994, a 1998 graduate of the Yale School of Medicine, and a proud fellow of Jonathan Edwards College. He lives with his family in Greenwich Village and works in the administration at Memorial Sloan Kettering Cancer Center. Each spring, he co-teaches an undergraduate seminar on biotechnology and drug development as a lecturer in Yale's Department of Economics.