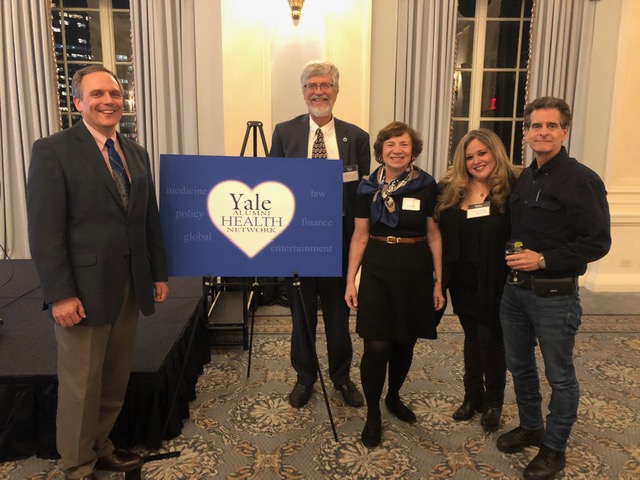 The Yale Alumni Health Network (YAHN) got off to a roaring start with its initial public event, drawing more than 200 alumni to the Yale Club of New York City to hear from revolutionary engineer and inventor Dean Kamen.
YAHN is a new alumni interest group that aims to serve as a nexus for all health-related disciplines, fostering networking and knowledge acquisition, spurring innovation, and driving alumni career development. YAHN brings together current and future Yale alumni leaders from all sectors that touch on health – medical practice, academia, law, finance, technology, engineering, policy, government, entertainment, journalism and beyond.
The group's launch event was kicked off with opening remarks from YAHN Chair Dr. Jamie Wells '96, MD, FAAP, and Will Shikani '10, representing the Yale Club/Yale Club Activities Committee.
Kamen is, in many ways, an exemplar of what the group aspires to achieve. He holds more than 440 patents and is considered a visionary as an engineer and inventor. In 2015, he received an honorary doctorate of engineering and technology from Yale.
At the Yale Club, Kamen shared his tales of patient toil and creating groundbreaking medical devices. The creator of many inventions, he is best known for inventing the Segway Human Transporter, the insulin pump AutoSyringe, HomeChoice portable dialysis machines, and an all-terrain stair-climbing electric wheelchair known as the iBOT.
"I'm an inventor – inventors look at the same problems as everyone else and see them differently," Kamen said, going further to cite two personal traits: "One: I never give up. I fail and fail and fail. Two: I connect the dots across industries."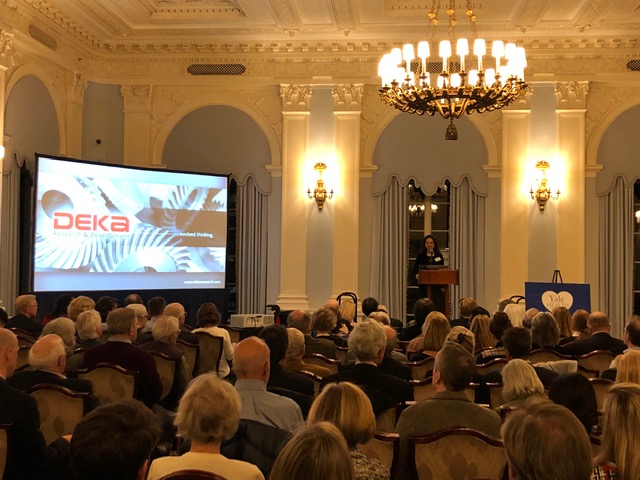 With his company, DEKA Research and Development Corporation, Kamen developed the "Luke arm," a prosthetic arm with highly advanced fine motor control. To address the largest killer of children under 5 – waterborne gastrointestinal illnesses – Kamen recently invented the Slingshot, which purifies water by a process called vapor compression distillation, creating medical grade water safe for human injection and drinking. He has partnered with Coca-Cola to bring these simple, energy-efficient systems to water-scarce communities in developing countries.
"We don't do the medicine – we just listen to what they need and try to bring them the best technology," Kamen said.
Kamen has created a legacy of learning through FIRST (For Inspiration and Recognition of Science and Technology), a program he created for students in 1989 that gets young people interested in science, technology, engineering, and mathematics. Kamen's hope is that groundbreaking technological advances will be sparked by many of the 1 million students who have participated in FIRST, which has given more than $80 million in scholarships to STEM students, thanks to some 3,700 global corporate sponsors.
"Innovation is about failure – I'd rather ask the questions that have never been asked," said Kamen. "Innovation typically happens at the intersection of disparate fields: you reach outside your field, and someone has a different perspective and tool set than you have in your field."
He added: "Whenever I'm told, 'You're categorically never going to do this,' I see that as a definite maybe."
Like Kamen, YAHN chair Wells is passionate about educating and mentoring the next generation. A Manhattan-based pediatrician for more than a decade, Wells is now teaching the inaugural course to start the nation's first degree-conferring program in pediatric engineering at the Drexel School of Biomedical Engineering, Science and Health System.
She has published more than 400 articles on medical policy and was the director of medicine at the American Council on Science and Health. Named a New York Super Doctor by the New York Times Magazine, she has been awarded America's Top Pediatricians, America's Top Physicians Honor of Distinction and Excellent, Compassionate Doctors Award, Patients Choice Award, and the Doctor of Excellence award.
Alumni interested in joining the new Yale Alumni Health Network should join the YAHN Facebook group, the YAHN LinkedIn group, follow the YAHN Twitter feed, or contact Stephanie Double, director, shared interest groups at the YAA.