The Yale Alumni Association Assembly and Yale Alumni Fund Convocation is a time of reflection and also celebration, an opportunity to honor the people – and the organizations – that make a deep and lasting impact on the Yale alumni community.
This year's Assembly and Convocation will wrap up on Friday night, November 22, by honoring the best of the past year with the YAA Board of Governors Excellence Awards.
The companion piece to the YAA Leadership Awards, which honor individual achievement, the YAA Board of Governors Excellence Awards honor alumni organizations for excellence in their events, programs, and best practices for Yale and on behalf of Yale. These awards recognize groups such as Yale College classes, regional clubs, interest groups, and Graduate and professional school associations.
Here's a look at the 2019 recipients: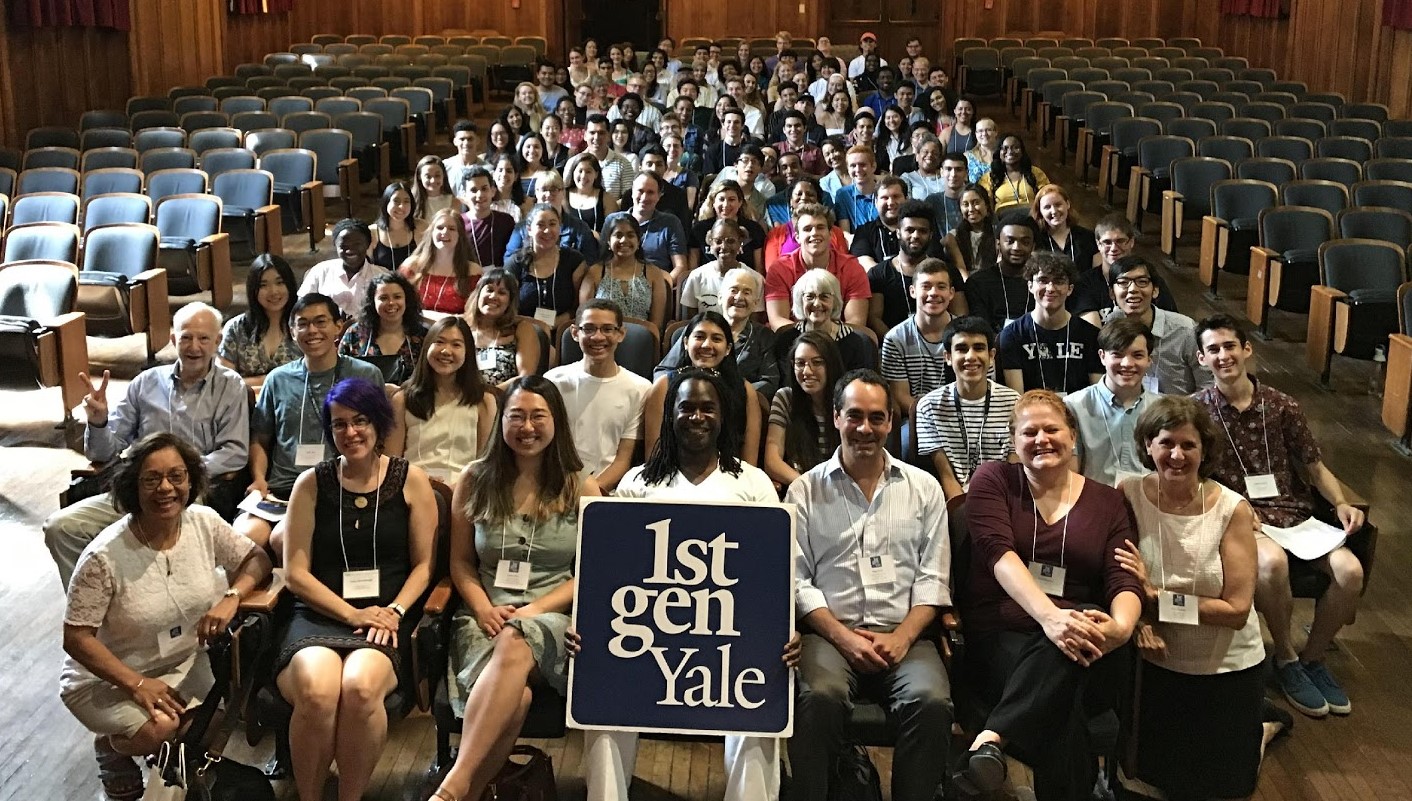 1stGenYale: Navigating Yale & Beyond: Alumni Perspectives
Navigating Yale & Beyond: Alumni Perspectives is a full-day program that brings first-generation and low-income background Yale alumni back to campus to engage with incoming first-generation, first-year students.
The purpose of the day is for alumni to share stories and insights that will help the students navigate Yale, know where and when to ask for help, build awareness of strategies to overcome challenges and obstacles, and develop important life skills. By meeting and talking to alumni role models, students gained confidence about their upcoming experience at Yale and increased their sense of belonging.
Alumni participation in the event has doubled since the 2016 inaugural event, engaging a total of 155 graduate and Yale College alumni and 265 Yale College students. The 2019 event drew 50 alumni, 72 first-year students, and 10 upper-class student counselors.
Association of Yale Alumni in Public Health: AYAPH Board of Directors Leadership Retreat on Diversity, Equity, and Inclusion
In February, more than 35 public health alumni association board members and other Yale campus stakeholders attended a diversity, equity, and inclusion leadership board retreat. The goal of the retreat was to address the AYAPH's and Emerging Majority Affairs Committee's (EMAC) ongoing discussions related to the low numbers of historically underrepresented minority faculty and students, the lack of DEI infrastructure, communications, and DEI evidence-based projects at the Yale School of Public Health (YSPH).
The leadership retreat brought together many divergent stakeholders, giving them an opportunity to be heard, and from the many voices forged a consensus on important goals to recommend to the YSPH dean. AYAPH's DEI board retreat, the result of a commitment to DEI by AYAPH and EMAC, could be the first time that a Yale graduate and professional school alumni association has devoted an almost full day to addressing diversity, equity, and inclusion in an effort to improve DEI infrastructure, strategy, and accountability of a Yale graduate or professional school.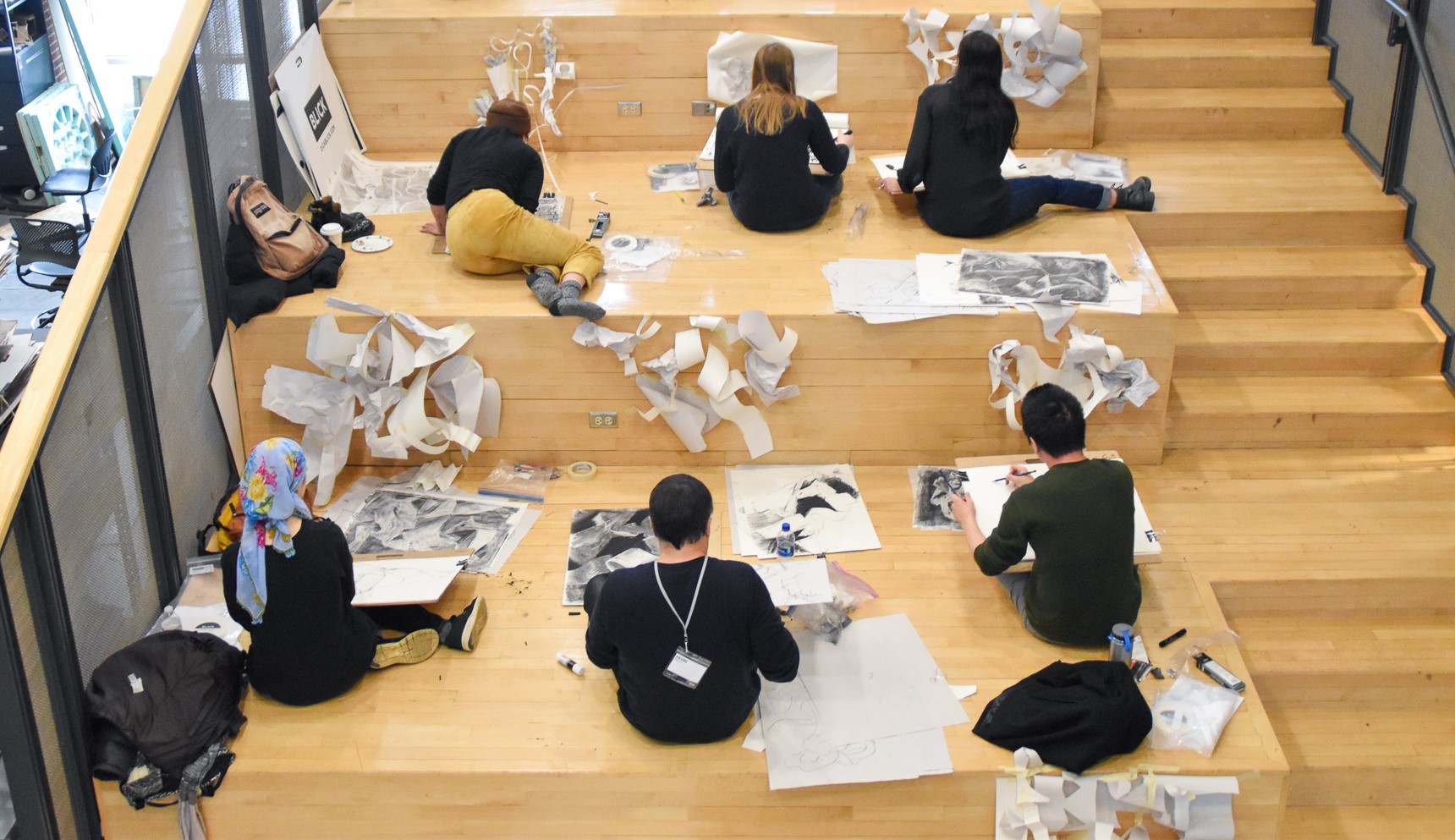 Robert Reed '62 MFA Drawing Workshops
Robert Reed '62 MFA was the first African American professor tenured by the Yale School of Art. He taught at Yale from 1969 until his death in 2014. His innovative curriculum and unique studio culture influenced teaching and creative practices of generations. The Robert Reed Drawing Workshops are an extension that work, functioning as a series of exhibitions, lectures, discussions, and workshops based on the art and pedagogy of Professor Reed.
The Robert Reed Drawing Workshops, organized primarily by his Yale students and colleagues, sought to recover and bring new attention to Reed's unique teaching methods – and in doing so, they exposed many to his art. In all, these workshops drew more than 350 participants and 40 organizers, workshop leaders, discussants, and lecturers – including 190 to the event held at Penn State and 100 to the workshop at Hunter College.
Yale Alumni Facebook Group
The Yale Alumni Facebook Group was created in September 2017 by members of the YAA Board of Governors to connect Yale alumni across colleges, classes, schools, interest groups, and regions via social media. Since the group's inception, membership has reached more than 18,000 alumni, with diverse backgrounds and representation.
Created by alumni for alumni, the closed group has become a major platform for alumni engagement, with daily activities globally and a mission to increase engagement, share alumni events widely, and facilitate alumni connections with one another.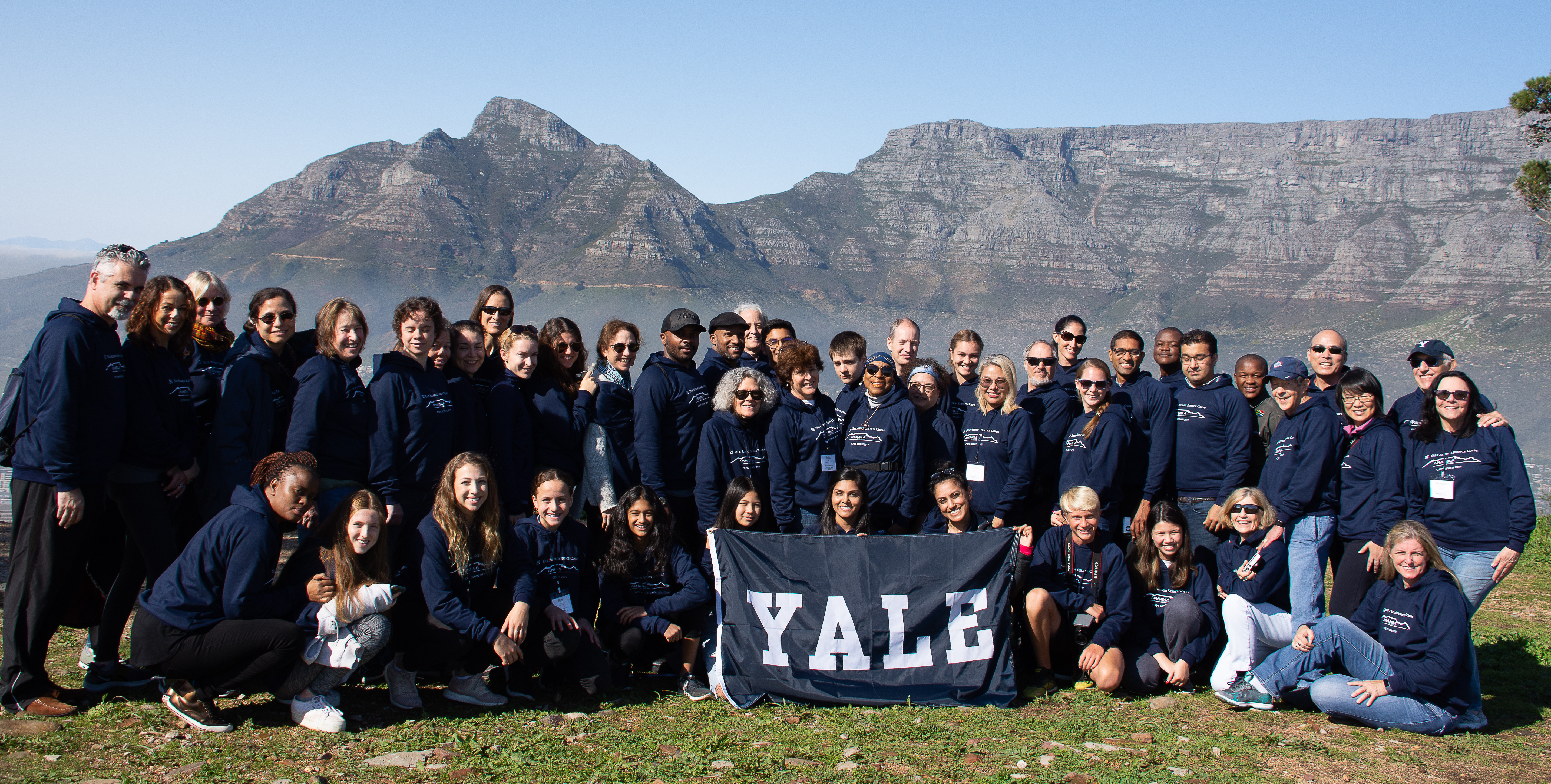 Yale Alumni Service Corps: Cape Town 2019
In 2019, YASC brought 50 volunteers to Philippi township to roll up their sleeves and make sustainable change. Philippi is a poor community on the outskirts of one of Africa's – and the world's – most beautiful cities. The YASC volunteers undertook work with community partner Amandla Development to tear down the striking inequality and make a better life for the youth of Philippi.
Over the course of the two trips, YASC volunteers accomplished some impressive feats. On the first trip, the children's health team screened 10 times the number of children the education department manages to screen annually for potential hearing loss. In the second-year follow-up, volunteers again screened an impressive number of children, while also training community members to use the HearX app and helping Amandla Development open a conversation with the education and health departments about using this methodology of triage and decentralized care as a possible national model for preventive care in schools.
Given the number of children forced to leave school annually due to such preventable health issues, this is truly remarkable in its long-term potential for South Africa.
The Yale Healthcare Club of China: Healthcare Forum: Frontiers in Health & Medicine: Views from LP/GP on Innovation & Investment in Healthcare Industry
The healthcare forum on innovation and investment in China was a hallmark event organized by the Yale Healthcare Club of China (YHCC). The forum consisted of two panels: 1) Views from LP/GP on Healthcare Investment in China, and 2) Value-oriented Innovation & Investment in Healthcare Industry. Kevin Ye, president of YHCC, gave opening speech regarding the evolution of the pharmaceutical industry in China. Influential speakers from both the investment world and industries were invited, allowing robust, candid viewpoints to be exchanged.
The event not only was well-received by the audience in China beyond the Yale community, but it also piqued the interest of those in the U.S. who follow China's healthcare industry. The event also promoted speakers with Yale backgrounds. As a result, YHCC has established itself as a reputable organization and attracted quality institutions such as AmCham and the Harvard Club to collaborate in coordinating future events.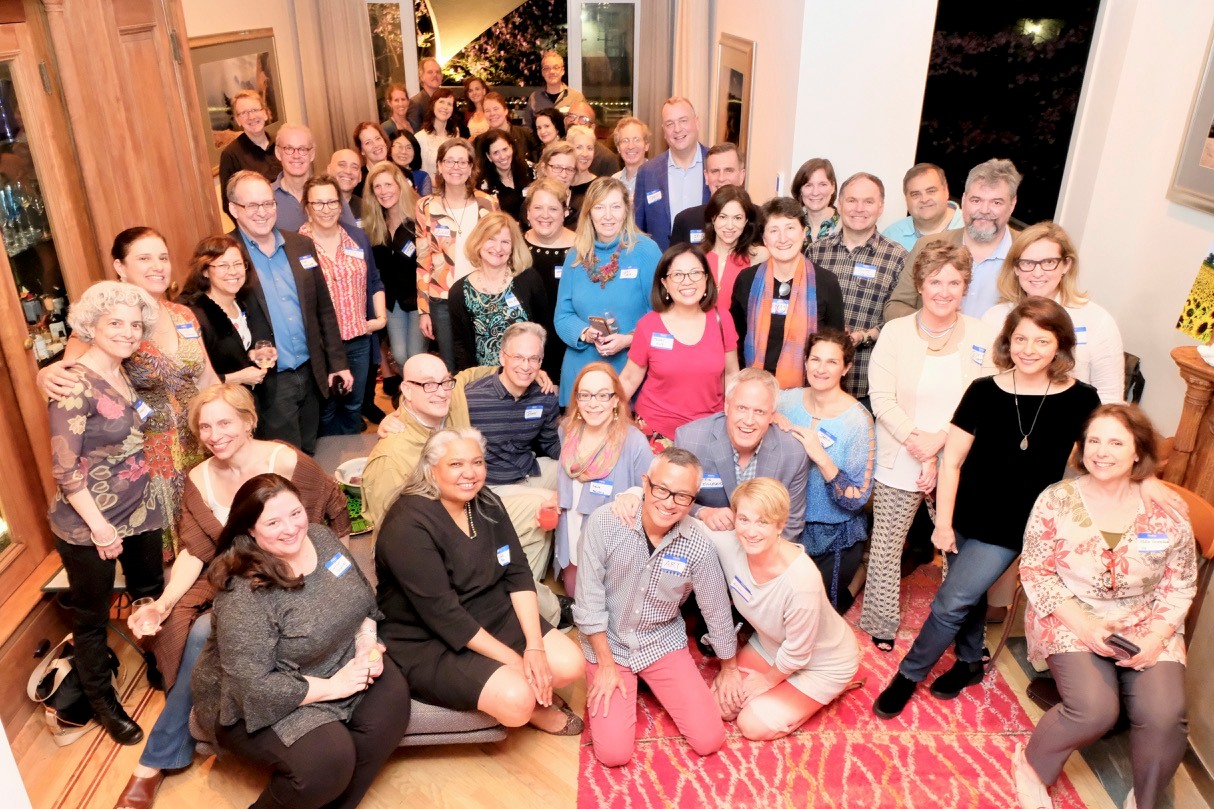 Yale Class of 1985: Nationwide 2019 Pre-Reunions
In 2019, the Class of 1985 greatly expanded the geography of its already robust efforts to bring classmates together in non-reunion years. Behind the volunteer leadership of Brian Hammerstein, classmates hosted eight receptions in their own homes and a museum – a VIP tour of the popular National African Museum of History and Culture in Washington, D.C. – yielding a total of 242 classmate interactions.
Due to the size of the Brooklyn event, classmates in the New York area underwrote catering costs. Hosts bore the cost of all the smaller events in other cities. None of the events had an admission charge. The class branded the events "Preunions" and posted photos on social media to build attendance for its 35th reunion next year.
Yale Alumni Nonprofit Alliance (YANA): Marketing Program featuring an Annual Report and Global Newsletter
In 2019, YANA introduced a new marketing program featuring both an annual report and a quarterly global newsletter to tell its remarkable story, an eight-year year journey of working together, giving back, and changing lives.
YANA's mission is to unify and leverage Yale's ever-growing social purpose community for the greater good. Both the annual report and global newsletter were designed to keep alumni informed about the many opportunities to serve and to give back in meaningful ways. Both marketing pieces help YANA put into practice the three core principles that advance its mission: convening, connecting, and collaborating.
The result was more than 5,000 participants, a number that continues to grow annually as YANA finds new ways to reach new and diverse audiences. To that end, the annual report and global newsletter have become valuable outreach tools helping YANA connect and expand, with the number of followers and sign-ups increasing by 15% to 20% annually.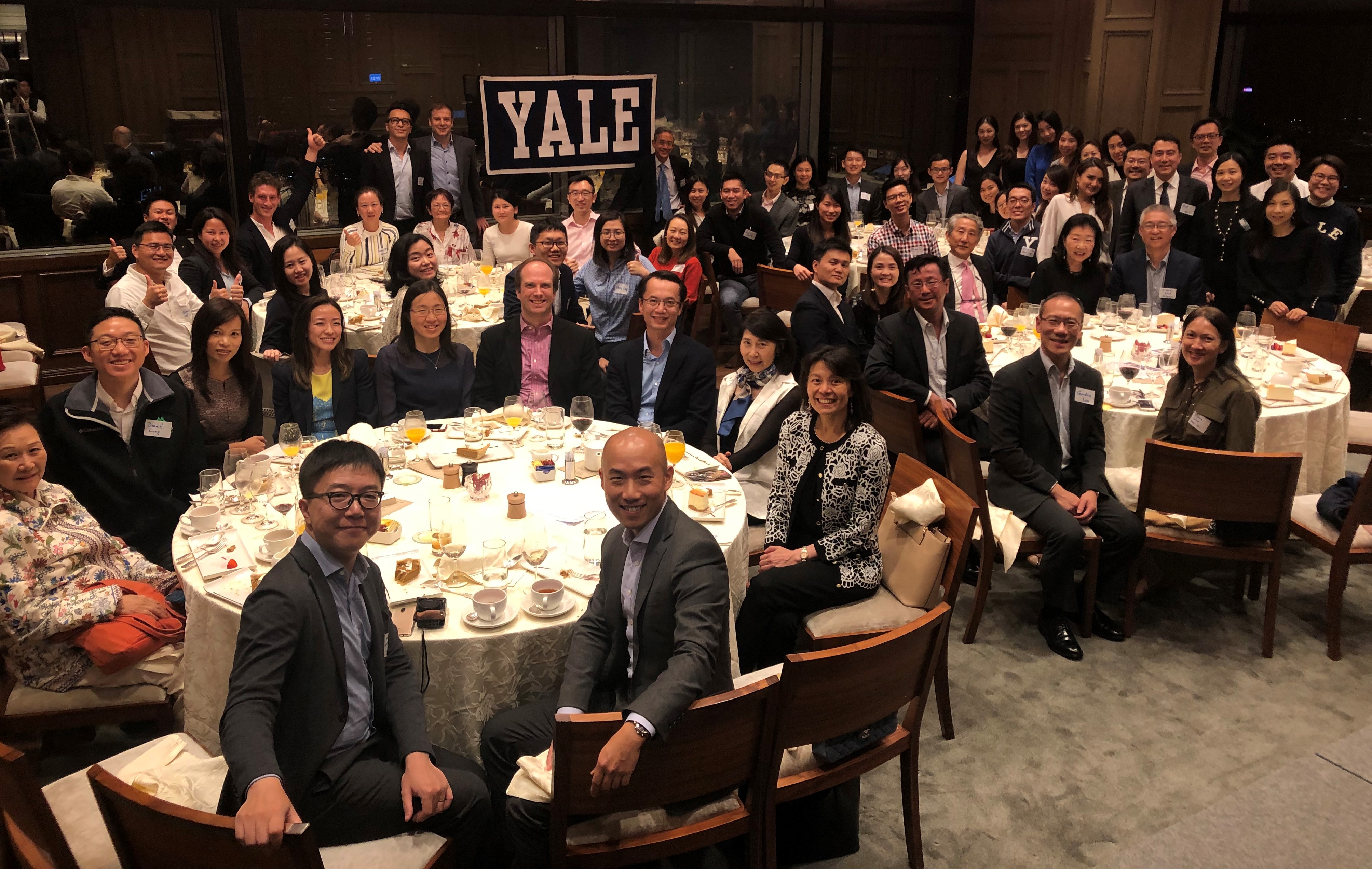 Yale Club of Hong Kong
The Yale Club of Hong Kong prides itself in promoting Yale and representing Yale to potential students, while also supporting Yale students who visit the area. The club also seeks to bring the Yale spirit of public service to the local community – not only through the Yale Day of Service, but through its own Chamber Music Society, which performs for philanthropic organizations throughout Hong Kong.
YCHK's events revolve around speaker events, social events, community service, admissions, and activities for visiting students. While other peer alumni groups in the city tend to separate their undergraduate schools from their professional schools, the special effort of the club has been to unify the different parts of the Yale community, including Yale College, the Yale School of Management, and other graduate and professional schools.
In all, the club estimates that more than 300 alumni have participated in one of their activities in the past year, ranging from being a college admissions interviewer to attending a talk or to joining one of the club's hikes or other social events.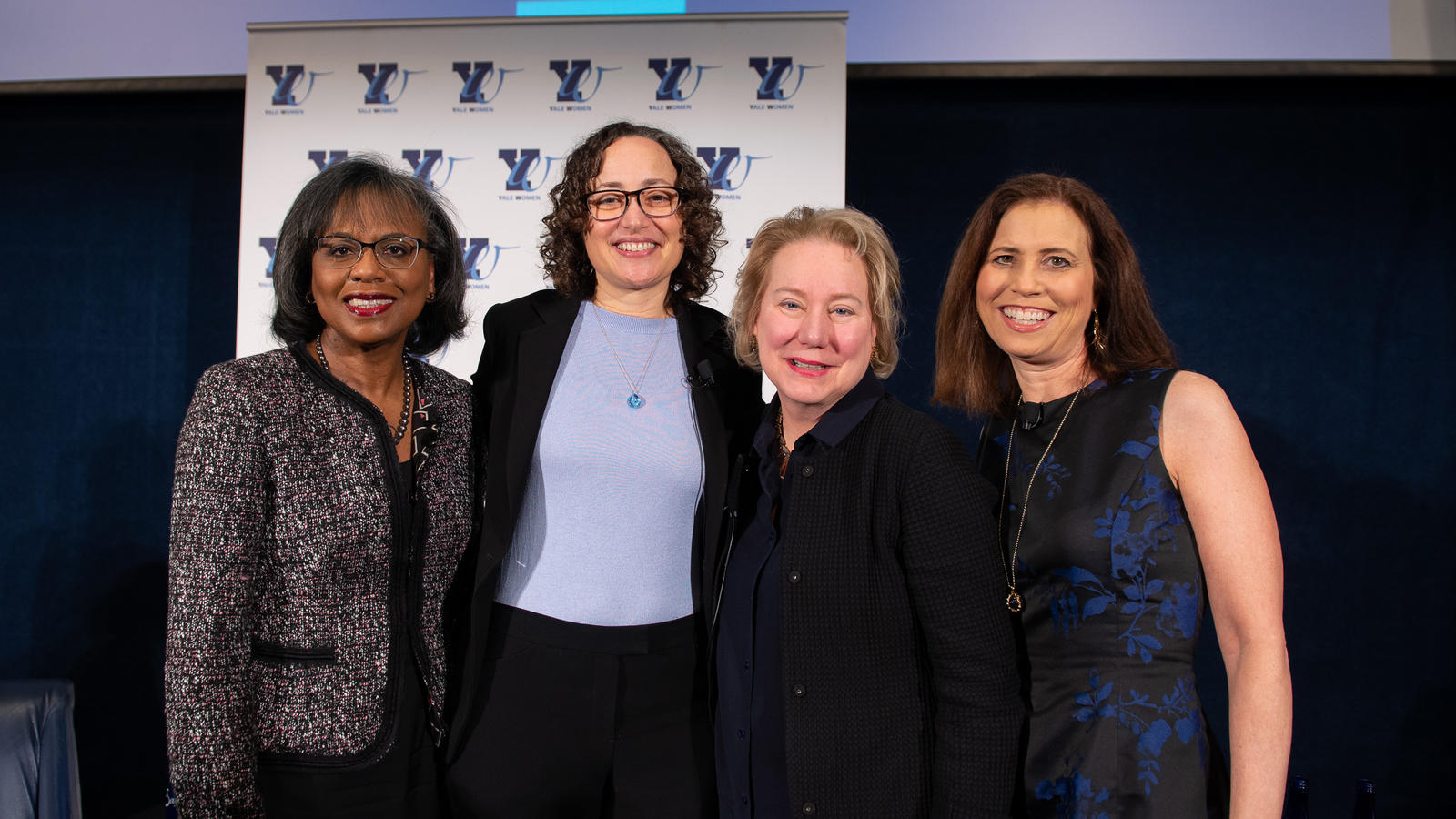 YaleWomen, Inc.: Awards for Excellence: Working Toward Gender Equity
In March, YaleWomen bestowed its annual excellence awards, drawing more than 170 attendees to the National Press Club in Washington, D.C. The event honored Lifetime Achievement recipients Anita Hill '80 JD, Catherine Lhamon '96 JD, and Ann Olivarius '77, as well as Impact Award recipients Araceli Campos '99, C'Ardiss Gardner Gleser '08, Kamala Lopez, Rebecca Reichman Tavares '78, Vera Wells '71. It also featured a panel discussion with the Lifetime Achievement award winners moderated by Joanne Lipman '83.
YaleWomen received 91 nominations for 66 unique nominees, reflecting extraordinary diversity: Yale affiliation, functional area, career stage, achievement, and impact. The nominations were reviewed and vetted at the intersection of the outcome the group needed to achieve to further its mission and the possibilities of the coming 50WomenAtYale150 celebration. The goal: shining a light on alumnae who make a difference in their many different walks in life and also shine a light on issues.
Survey findings verified that the event was not only an inspiration for the attendees, but also aligned with YaleWomen's strategic plan centered around building community, lifelong learning, contributing to society, and contributing to Yale.
Yale School of Management New York City Chapter: Alumni Award Banquet
The New York City chapter is Yale SOM's largest and most active alumni group, led by a diverse group of volunteers who work tirelessly on alumni engagement efforts. In November 2017, they organized the first NYC Chapter Alumni Award Banquet, which drew 150 attendees, and it was repeated in November 2018, attracting 175 to the event.
The banquet is designed around Yale SOM's mission to educate leaders for business and society and the NYC chapter's mission to foster a community of Yale SOM alumni in the New York metropolitan area, advancing their careers and interests in business and society. The planning process begins 11 months in advance, with bimonthly meetings among the banquet leadership staff to ensure everything is proceeding smoothly. A variety of marketing is used for pre-event promotion, including word of mouth and paid Facebook ads, and post-event stories are written and posted to the Yale SOM website.
In the course of its two years, the event has become a key opportunity to bring Yale SOM alumni in New York City together, enabling a sense of community and drawing new members into the fold.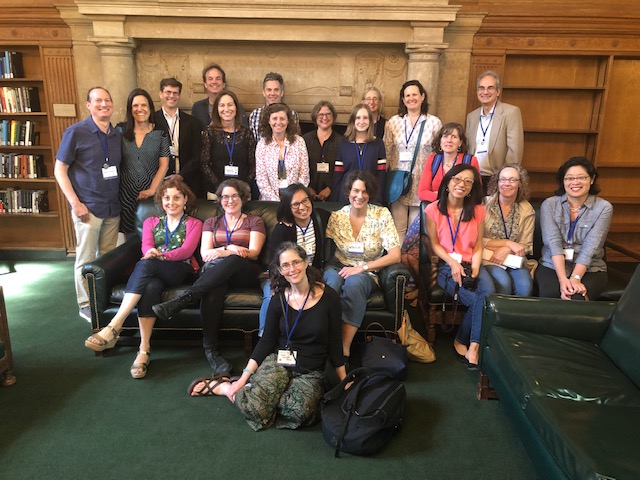 Yale Class of 1989: 30th Reunion
For the second reunion in a row, the Class of 1989 broke Yale's all-time reunion record. At this year's May 2019 reunion, the Class of 1989 set a new record for Yale's 30th Reunion total attendance and percent class participation. Previously, in 2014, the Class of 1989 had set Yale's all-time record for the 25th reunion in the same categories.
The reunion also featured a powerful op-ed written for the Yale Daily News by reunion co-chair Jay Musoff, a tour of classmate Matthew Barney's art exhibit at the Yale University Art Gallery, and a keynote panel, "Yale Women: The Paths We Took." Moreover, the reunion drew attendance by reducing costs, simplifying RSVP options, and executing a targeted marketing campaign in the year leading up to the reunion.