Each year, the YAA Board of Governors Excellence Awards honor alumni organizations for excellence in their events, programs, and best practices for Yale and on behalf of Yale. These awards recognize groups such as Yale College classes, regional clubs, interest groups, and graduate and professional school associations.
This year, the honorees will be honored during a virtual ceremony hosted January 27 at 7 p.m. ET and open to all alumni. The recipients of the YAA Board of Governors Excellence Awards will be celebrated alongside the winners of the YAA Leadership Awards, the Alumni Schools Committee Awards, and the Yale Alumni Fund Chair's Awards.
Related: YAA Honors Extraordinary Volunteers with Leadership Awards
Here's a look at the 2021 Excellence Awards recipients:
1stGenYale
1stGenYale is being honored for blazing a trail of focused alumni leadership. With its Summer  Bulldogs program, 1stGenYale helped current Yale students secure rewarding summer research internships under academic faculty supervision at nonprofit organizations.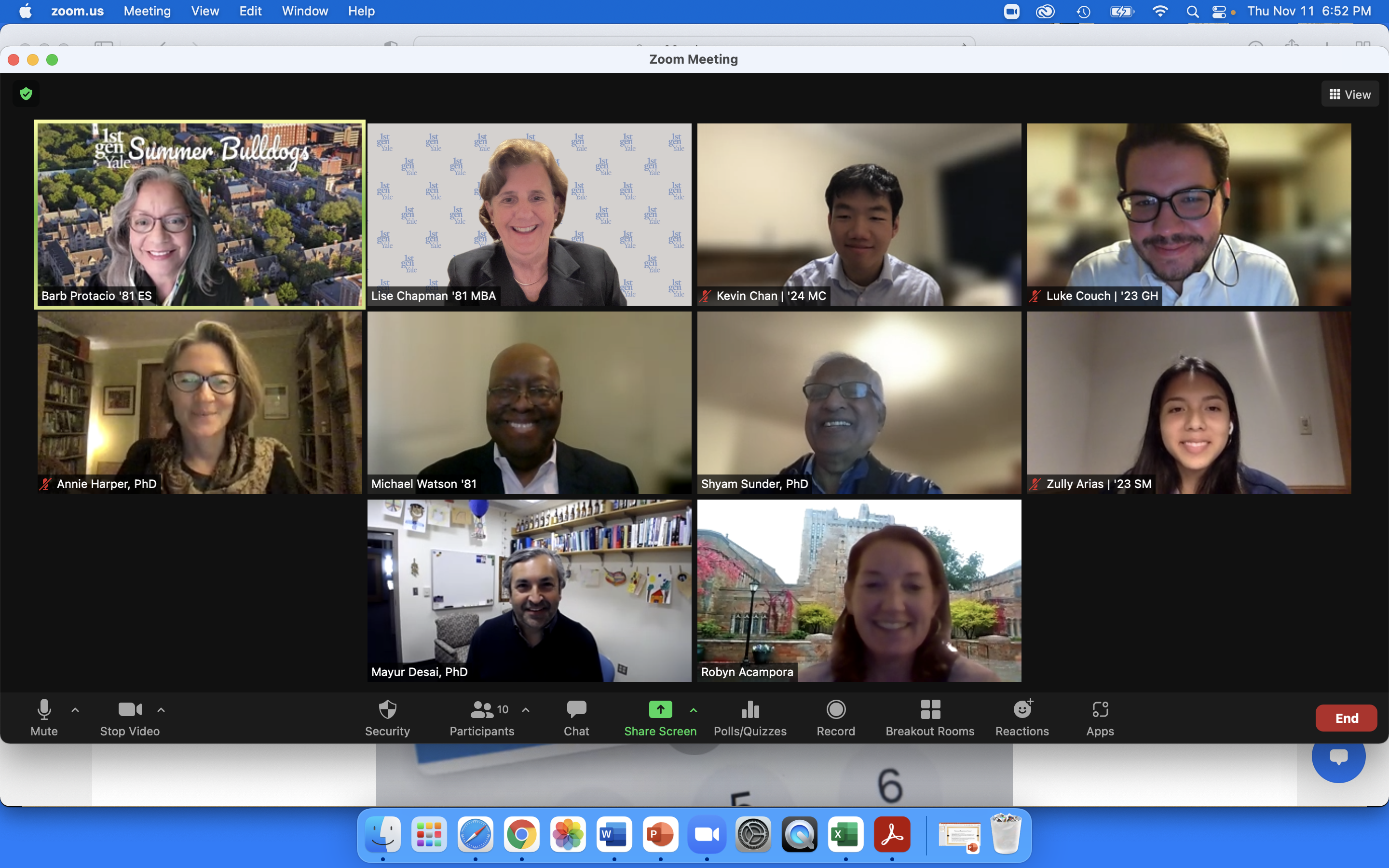 Overall, 44 first-generation, low-income Yale College students found placements through the program, which was supported by the Yale Office of Career and Strategy. To make this program a reality and a success, 1stGenYale built a powerful, hands-on pipeline – identifying opportunities, communicating them to students, preparing candidates, advocating for them, and following up with support during and after the summer. By providing first-generation, low-income students with an infrastructure of opportunity, 1stGenYale helped realize the promise of equal reward for equal effort and represented Yale at its best.
Cincinnati Yale Club
The Cincinnati Yale Club is being honored for its creative programming that brought together alumni from multiple clubs around the non-playing of The Game in 2020. The club, in light of The Game being canceled due to the pandemic, was able to predict the final score: 0-0 ... or two big bagels. As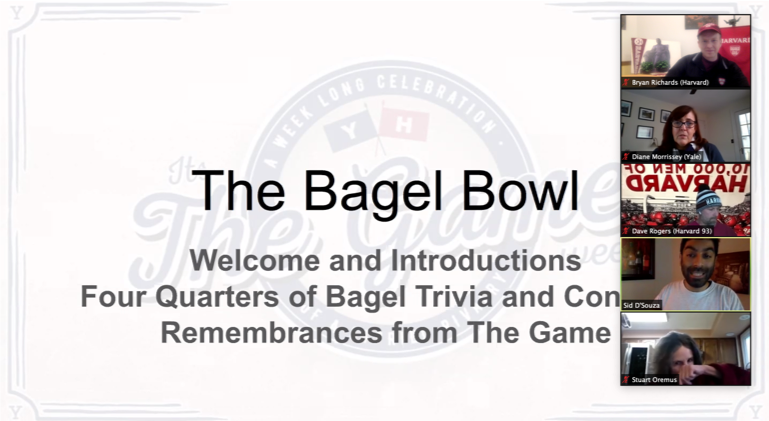 such, they hosted multiple clubs across the Ohio River Valley from both the Yale and Harvard sides to meet on the virtual field in the first ever Yale-Harvard Bagel Bowl. Participants logged on from as far away as Oregon and Massachusetts to learn about the secrets of bagel-making from a celebrity chef. In the end, the Bulldogs defeated the Crimson by winning points in live trivia, bagel schmearing, spirit, and decorated cookie showcase contests. This creative event engaged 12 regional clubs from both sides, with more than 100 alumni tuning in, many of whom remarked that it was one of the greatest alumni events in which they had participated, live or virtual.
Yale Alumni Nonprofit Alliance (YANA)
The Yale Alumni Nonprofit Alliance (YANA) is being honored for its annual gala, which pivoted to a virtual format in the wake of the COVID-19 pandemic. The 10th Anniversary Gala engaged a record number of attendees, featured current Yale students and alumni, and benefited a number of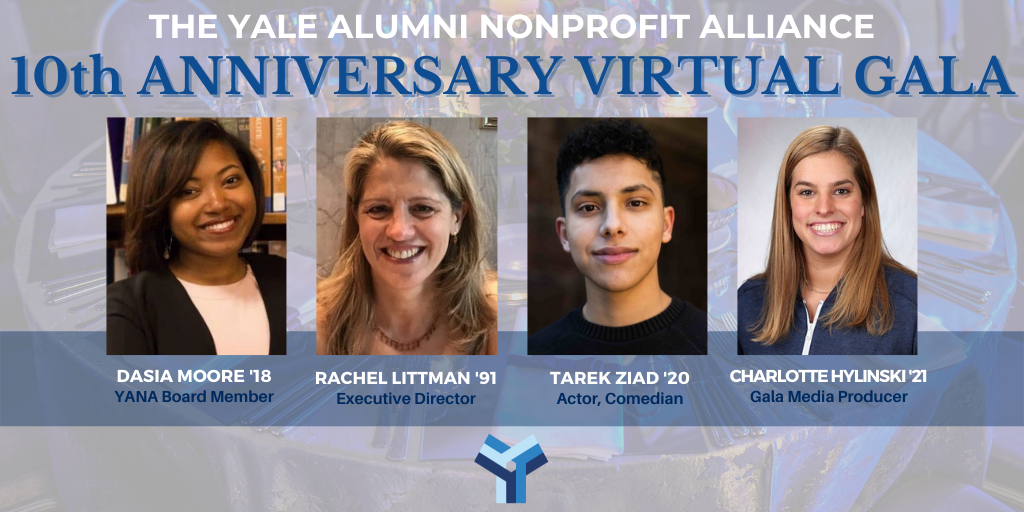 nonprofits. It also helped raise awareness of YANA's mission, which focuses on supporting nonprofit organizations, students, alumni, and those in the social impact space. YANA's plans for a major fundraising gala were dashed by COVID-19, but with the support of a strong volunteer team, the organization's leadership created a 38-minute video program that brought in a global audience of 784 viewers and generated nearly $20,000 in net revenue. The event's production was largely completed with the help of students, most notably Charlotte Hylinski '21, who produced the video. Among the participants were Tarek Zian '20, who produced a comic segment on living in quarantine, and David Blasher '01, chair of Drama Club, a nonprofit whose theater work is used to reach formerly incarcerated kids. The event also included activists, teachers, artists, and a performance of "Brighter Day" by Yale's acclaimed a cappella group Shades of Yale.
Yale Alumni Service Corps Advisory Board
The Yale Alumni Service Corps Advisory Board is being honored for its work planning and running a series of virtual book club sessions for promising students in the township of Philippi, an underserved community located on the outskirts of Cape Town, South Africa. This was a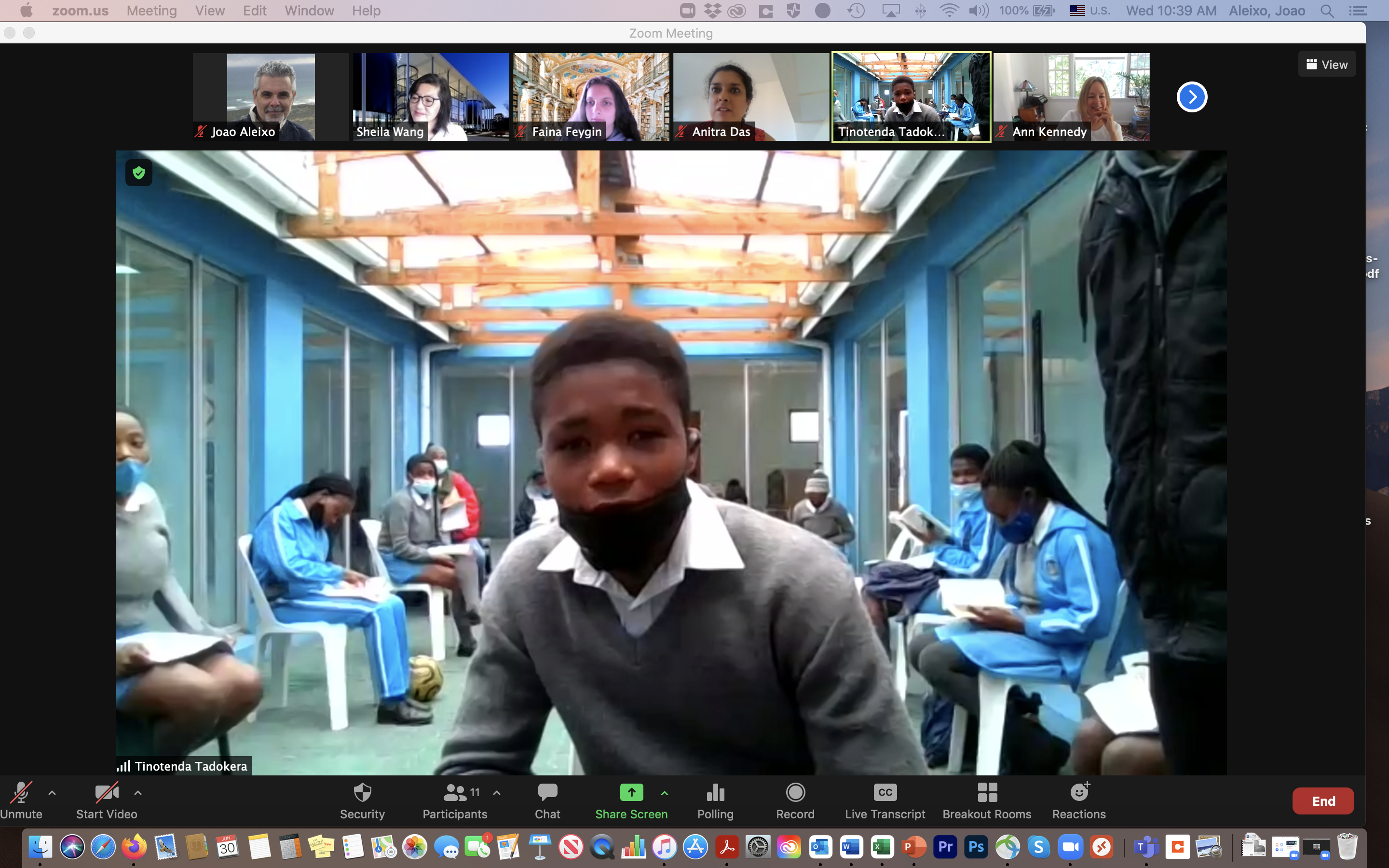 continuation of YASC's service trip to Philippi in the summer of 2019 and was coordinated with its local partner, Amandla Development. To encourage reading and comprehension for pleasure for participants in Grades 7 and 9, YASC encouraged students to read Kwame Alexander's "Crossover" series. They were provided opportunities to respond to literature in a personal way, making connections to the YASC volunteers through the sharing of a common text and a cultural exchange. The sessions took place in Amandla's Safe Space in Philippi, which aims to provide a nurturing place for vulnerable youth to gather and access services. Despite rainstorms and other inclement weather, coupled with tightening travel restrictions due to the COVID-19 pandemic, learners, mentors, and Amandla staff persevered, ensuring that the students were part of this unique opportunity.
Yale Club of Hong Kong
The Yale Club of Hong Kong is being honored for its two major community service events, both held in 2021. The first initiative involved alumni volunteers helping underprivileged children and families, including mentoring minority Nepalese youth, conducting an English workshop for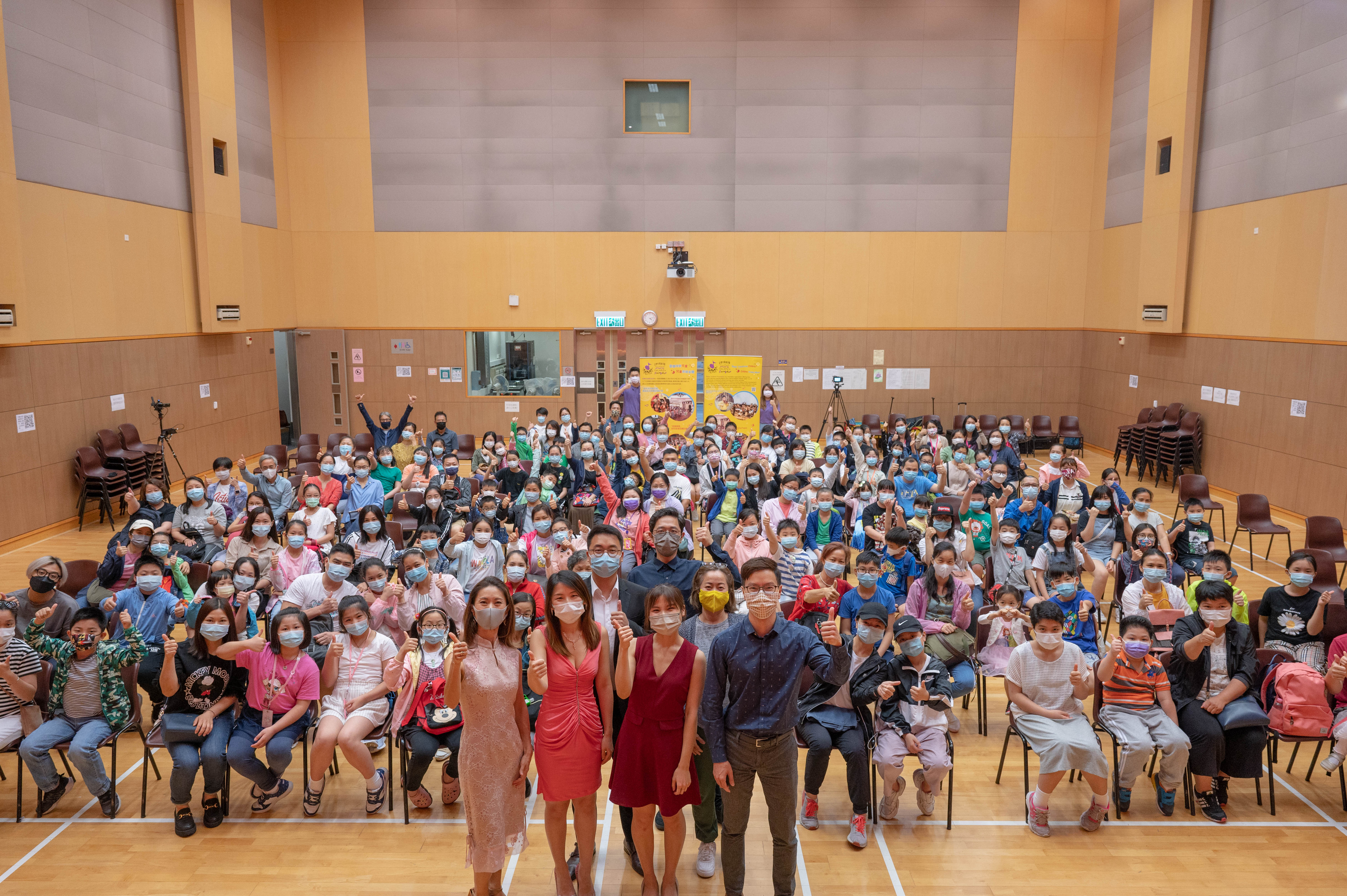 underprivileged children, performing a chamber music concert for underprivileged families, and packing rice for families in need. The club's second community service initiative was focused on the environment and included planting trees and local cleanups. As part of this program, 31 Hong Kong-based Yalies helped water and plant 100 trees and cleaned up garbage on the coast. In total, Yale Club of Hong Kong volunteers spent more than 375 hours serving their community in impactful ways.
Yale Club of Washington, D.C.
The Yale Club of Washington, D.C., is being honored for its unique arts program, which provided an opportunity for Yale alumni performers to connect with an audience despite the pandemic. In 2021, the club launched its first-ever Virtual Performing Arts Program to feature the talents of Yale alumni,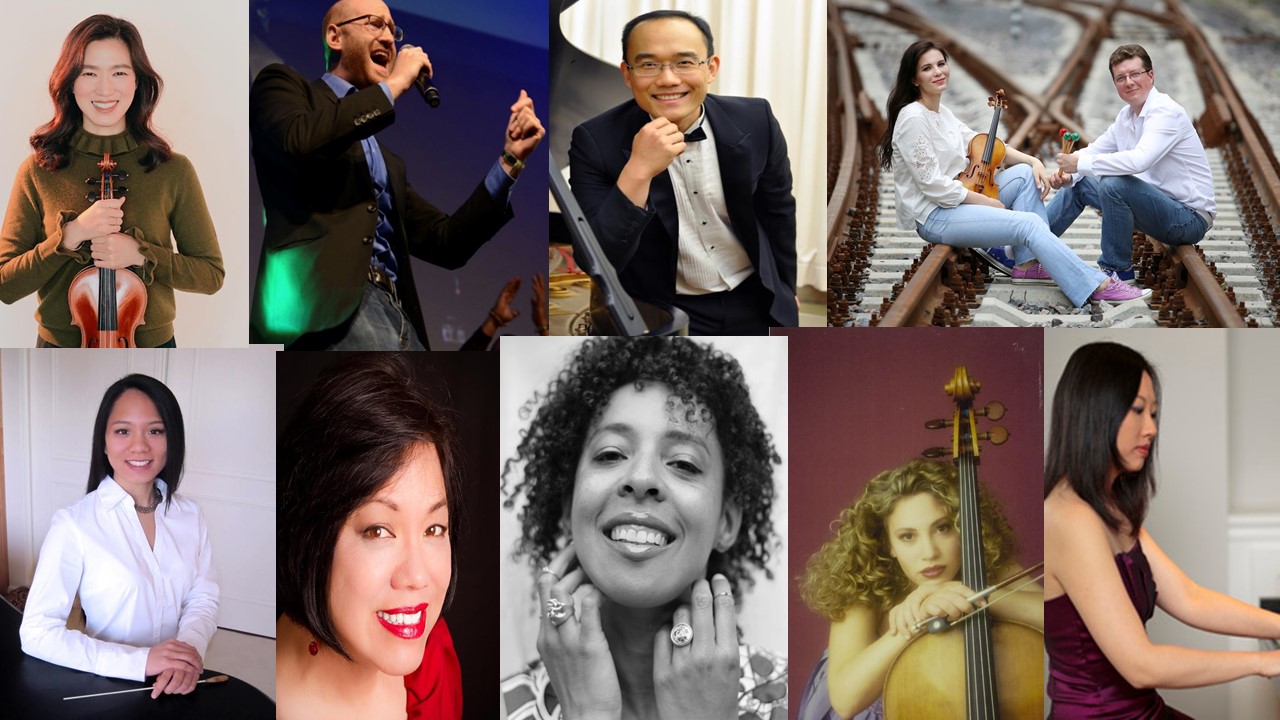 provide members with performing arts programming, and offer support to Yale alumni performing artists during the era of social distancing. Submissions were open to all Yale alumni performing artists whose primary profession is arts-focused. Receiving an honorarium for a one-hour program, the six selected artists came from across the nation and around the globe, representing a variety of ethnicities, nationalities, and socioeconomic backgrounds. The series itself spanned genres and periods, and the performers' commentary, as well as the attendees' questions, provided a learning experience about history, exclusion, and impact on the composers' lives and music. Performers got to have the experience of a much-missed live audience in an otherwise challenging year.
Yale College Class of 1971
The Class of 1971 is being honored for perservering through the pandemic to host its landmark 50th reunion. Not being able to gather in person, the Class of 1971 devised a fully virtual experience that included a multimedia Service of Remembrance honoring departed classmates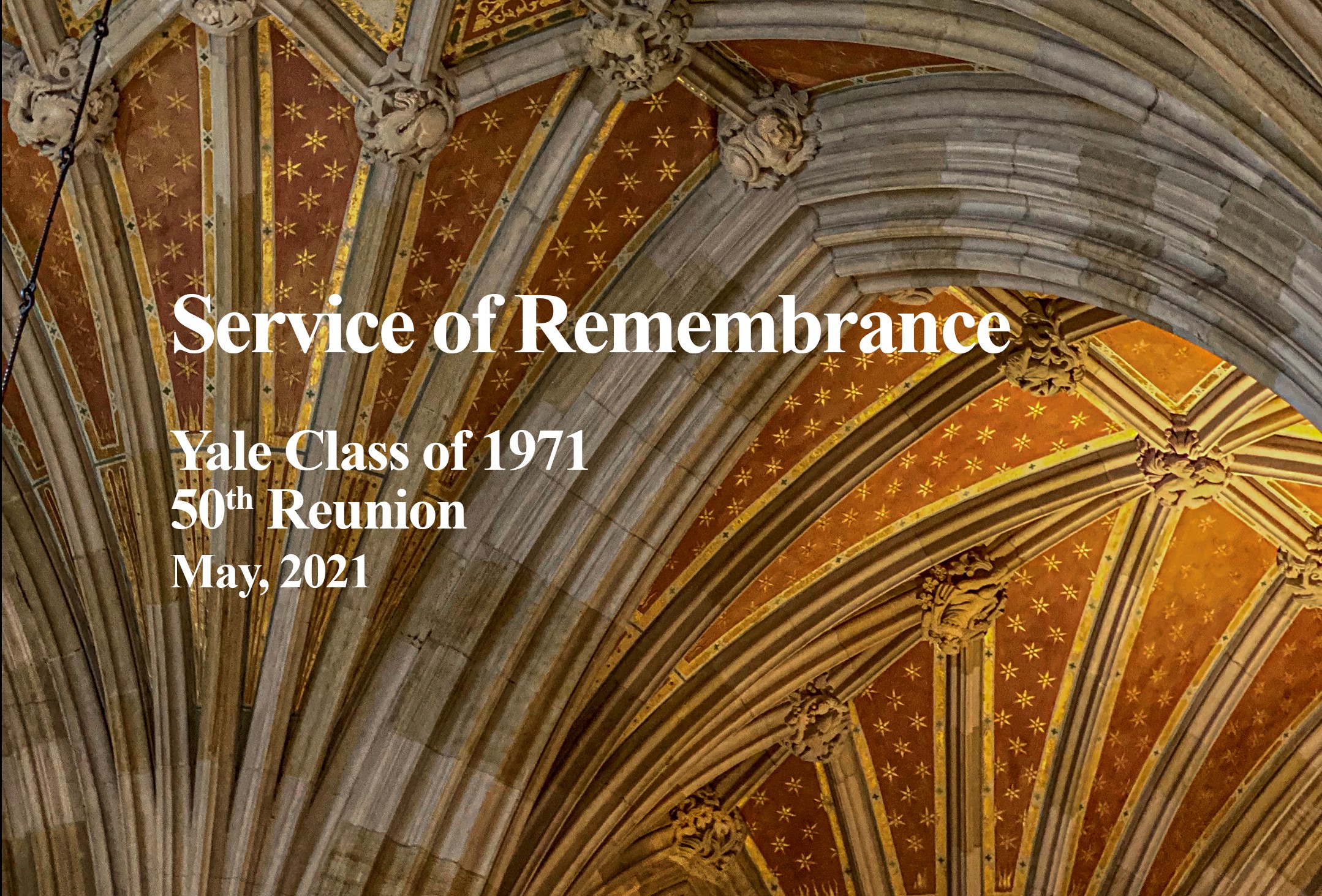 through videos, music, and vintage photographs. In doing so, the Class of 1971 reached out to the friends and surviving family members of the departed, which reconnected many and refreshed their gratitude for Yale. This tribute evoked shared Yale experiences and friendships and invited reflection on the mysteries of life and death using readings, poetry, and imagery created and presented by classmates. The reunion struck a chord with the more than 1,000 attendees, who noted the touching memorial and ability to gather together despite the physical barriers that separated them.
Yale College Class of 1988
The Class of 1988 is being honored for its efforts to create connection amid the pandemic. The class began meeting weekly at the start of the COVID-19 outbreak. Soon, the Thursday evening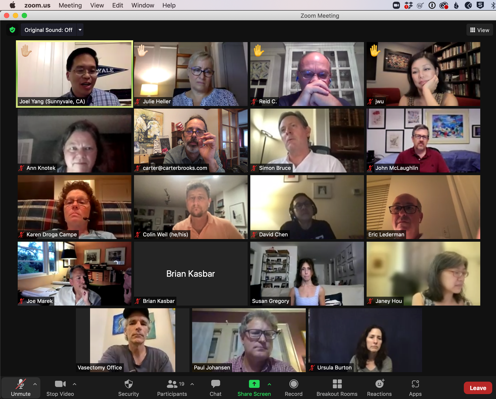 discussions grew beyond their happy-hour roots, blossoming into virtual salons covering wide-ranging topics, live performances, and deeply personal storytelling. Though conversations spanned geographies and topics, a class survey held in early 2021 revealed a need to address the ongoing emotional toll of the pandemic specifically. In response, the class began in May to add time to their weekly virtual gatherings to discuss the topic. Soon, these more focused and candid discussions were rebranded as the Peer Support Network – a monthly facilitated conversation on topics of interest to the class that were intended to foster new and deeper connections, including coping with aging parents, career challenges, bereavement, the "imposter syndrome," and menopause. Participants have expressed deep appreciation for the opportunity to connect and to be a part of the diverse, supportive community of the class.
Yale College Class of 1993
The Class of 1993 is being honored for its programming that addressed the critical issue of racial justice, with class leaders designing and launching a racial justice virtual common room series that sought to inspire classmates to "be the change" in service of racial equity. To drive the endeavor,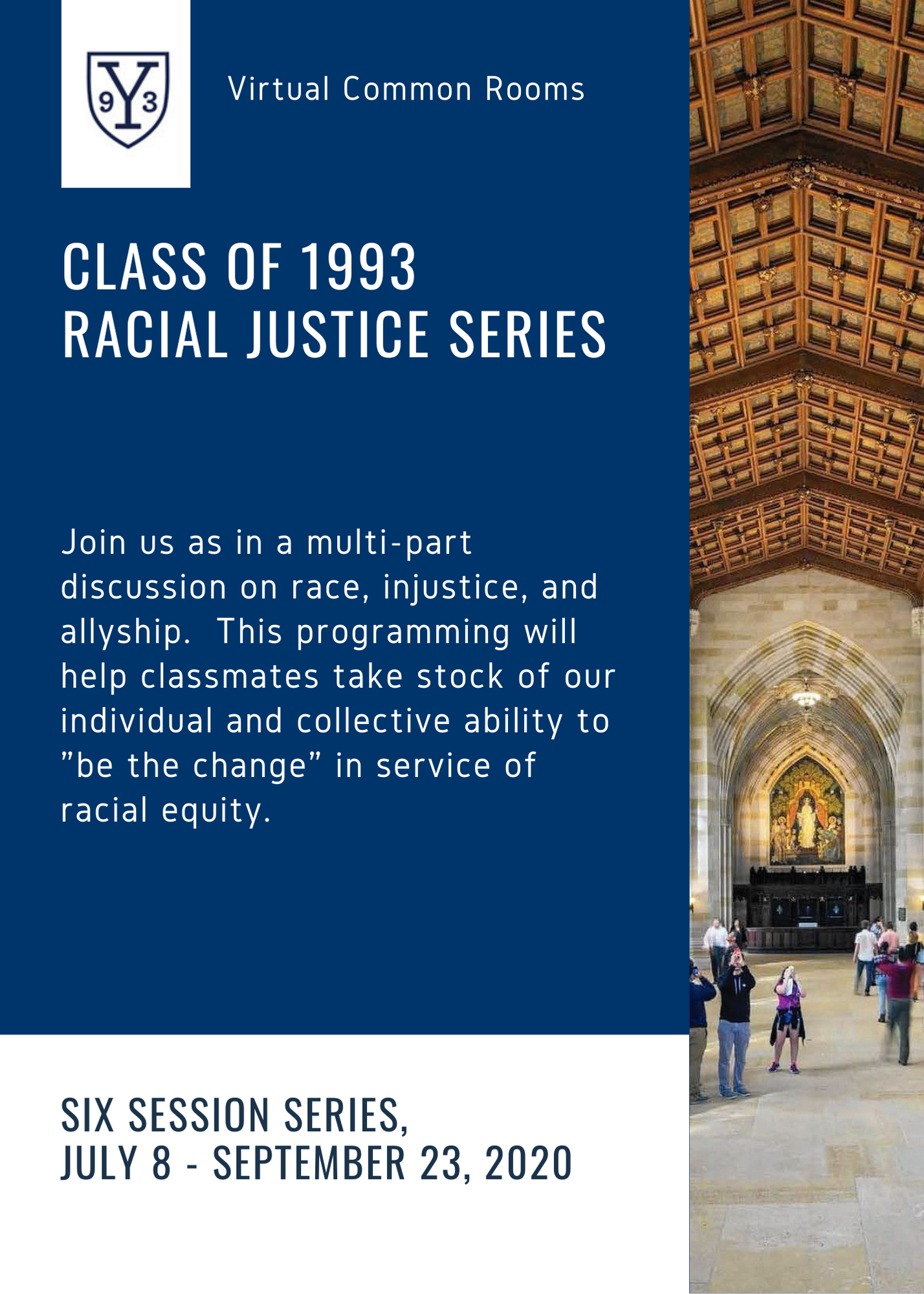 they developed a class-curated list of racial justice readings, presentations, and videos that deepened classmates' shared understanding of complex racial equity topics, and they leaned into Zoom by creating breakout rooms to facilitate candid discussions among smaller groups of classmates. Over the course of six sessions, classmates shared their lived experiences on a range of race-related issues, including personal and professional discrimination, implicit bias, and micro-aggressions. More than 100 classmates attended at least one session, and the total attendance across all sessions exceeded 200 participants. The series built a safe space for classmates of color and white allies to share their perspectives, while helping participants to identify the assets they bring to this struggle and to learn how to effectively activate them in their personal and professional lives.
Yale College Class of 1994
The Class of 1994 is being honored for leveraging two of Yale's great strengths, scholarly excellence and musical performance, to focus on societal fault lines. In sponsoring two panel discussions during 2020,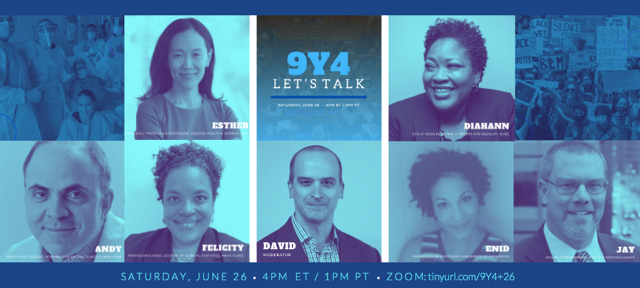 organizers brought together almost several hundred classmates and guests. Their content focused on topics ranging from race in America to the current impact of COVID-19, featuring medical, academic, and sociology experts drawn from the class. At year's end, the class hosted a holiday event that showcased talent and brought together Yalies through live performances, videos, and singing. And not only were they able to brighten the holidays for one another, the event raised more than $10,000 for a range of charities chosen by invited guest performers.
Yale College Class of 1998
The Class of 1998 is being honored for its work to increase engagement efforts during a difficult year. Sensing the shared need of classmates to connect during lockdown, the class secretary launched a series of biweekly Zoom events. These virtual meetups, which ranged from trivia nights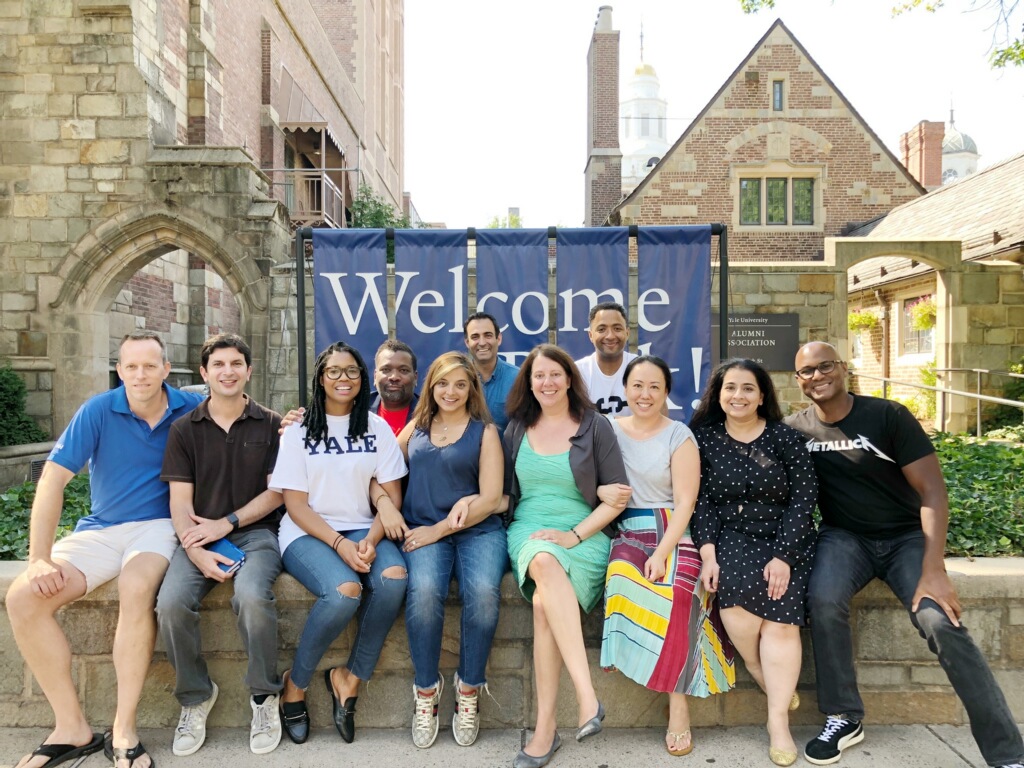 to current events and fascinating diversions, were each hosted by different classmates. Topics spanned an impressive breadth of subjects, such as "The Strategist's Guide to The Price Is Right" to "Songs of Yale: A Historical Perspective." Attendance exceeded expectations, capturing hundreds of classmates over the many months the series spanned, underscoring the program's success in bringing the class together. The class's quick pivot to digital at the start of the pandemic highlighted classmates' many talents and cultivated a foundation for frequent gatherings that should serve them well into the future.
Yale College Class of 2007
The Class of 2007 is being honored for its effort to combat "Zoom fatigue" with an innovative event that brought classmates together in a new and different way. To execute the event, the class set up a series of TEDx 2021 Talks and created a diverse agenda to support them by nominating peers to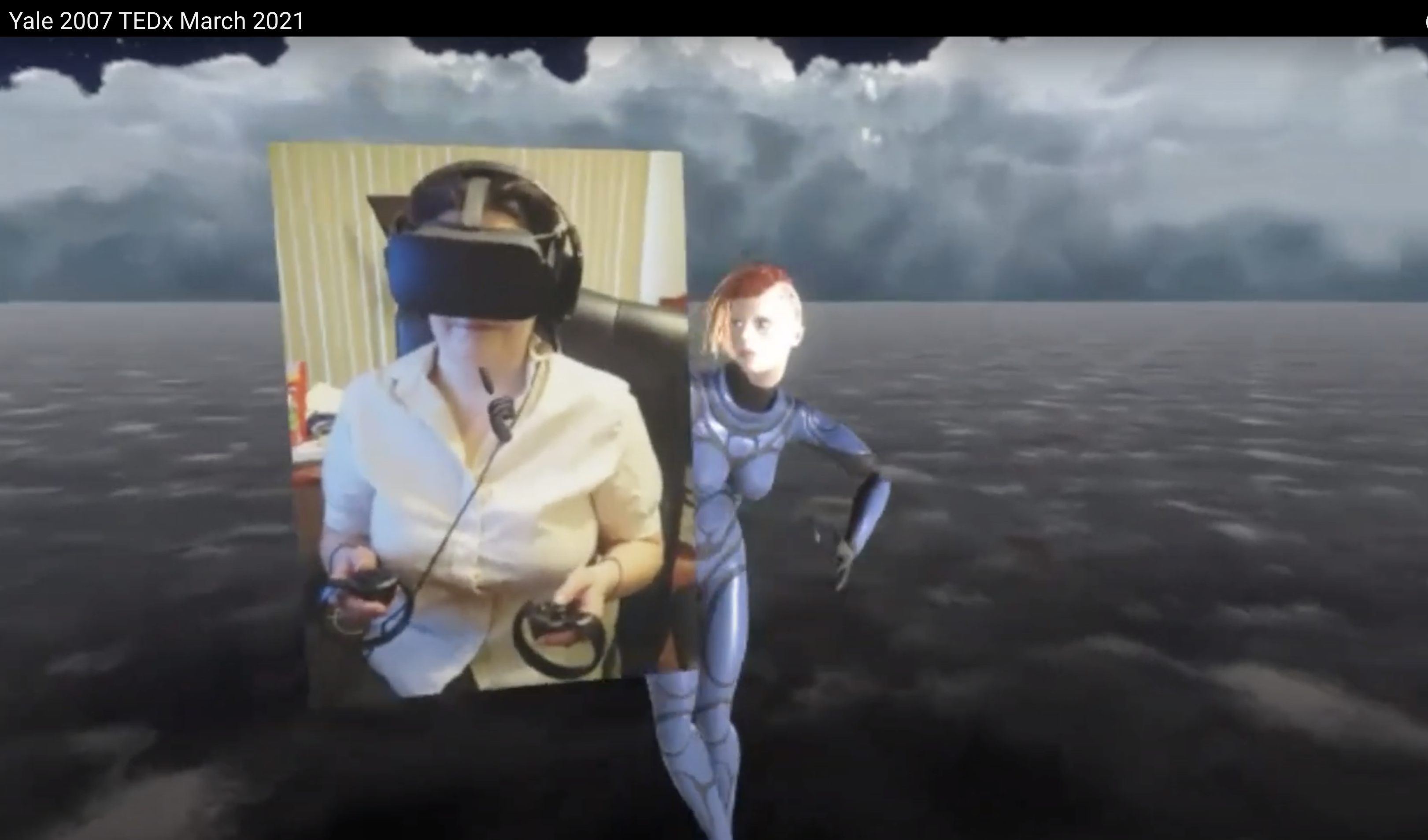 present topics such as Hygiene in the Pandemic Era; Crafting in a Digital Age; Recovering from a Stroke; Decoding Monkey Minds; Vaccines: Past and Present; and Performance in Virtual Reality. Each event was hosted live and then posted on YouTube to be shared. A unique after-party event was also held using Preciate, a platform that simulates a ballroom, where people can "walk" around the room and join smaller clusters of groups in conversation. The innovative use of virtual platforms was a way to connect the class and foster pride. In doing so, the Class of 2007 exemplified creativity and innovation by using technology to promote lifelong learning while addressing the need for greater connection in a digital world.
Yale in Hollywood
Yale in Hollywood is being honored for its creative efforts to use film as a way to bring together Yale alumni around the world. At the height of the COVID-19 outbreak in 2020, the Yale in Hollywood Fest was founded to connect global alumni in a safe and virtual way. The group started the festival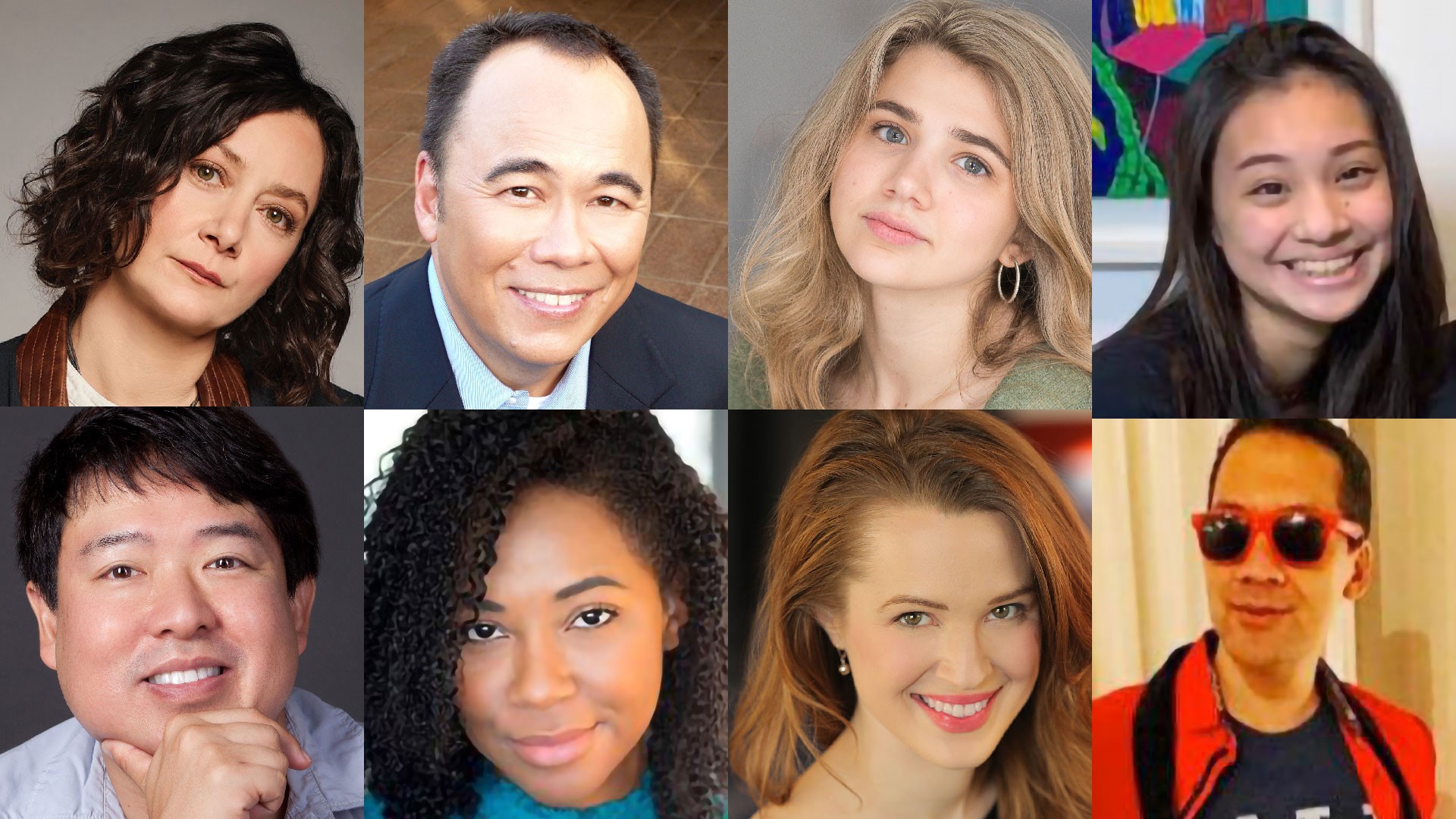 as a "platform to showcase feature and short films made with significant Yalie participation" and to elevate the Yale cinematic spirit. By hosting the event virtually, the organizers increased Yale in Hollywood Fest's reach beyond the Yale in Hollywood community to alumni worldwide, engaging a diverse group of judges and filmmakers along with top Yale alumni talent. The festival showcased features and short films that include at least one Yale student, alum, or current staff member in the starring, producing, writing, or directing chair. The inaugural Fest in 2020 welcomed more than 300 attendees, and the group decided that the festival would be virtual again in 2021 to continue to make it accessible to the worldwide Yale community and to provide a larger platform to surface great and important stories.
Yale School of the Environment Alumni Association Board
The Yale Environment School Alumni Board is being honored for its diversity, equity, and inclusion efforts. Board members recognized that advancing diversity is an environmental imperative as well as a moral one and that climate change disproportionately affects people of color.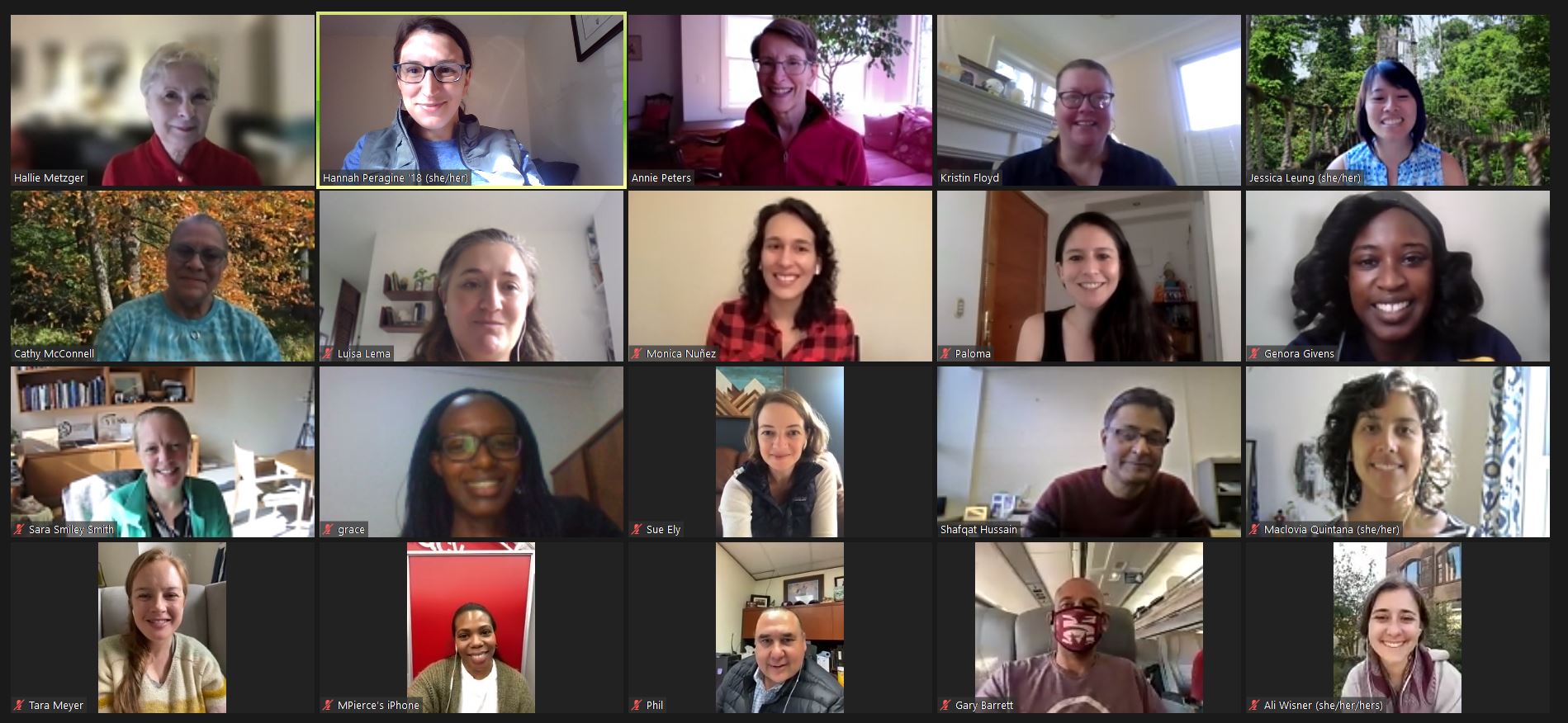 They also noted that, for humanity to address climate change, diverse voices must be centered – from the highest level of policy and business to grass-roots advocacy and education. As such, they organized the April 2021 "DEI in the Workplace: Personal Experience and Practical Advice" webinar to address these challenges by providing alumni with tools for advancing diversity, equity, and inclusion in their spheres of influence. This event both supported alumni in an area where they were actively seeking to learn more and tapped into a community of expertise and advice on DEI in the workplace. The event also underscored YSE's emphasis on promoting diversity and providing the environmental justice training that the world's environmental leaders need. 
Yale Science and Engineering Association
The Yale Science and Engineering Association is being honored for how it adapted its programming to a virtual format and increased alumni and student access to its offerings. Beginning in April 2020, the YSEA launched a series of grantee and awardee TED-style talks that showcased a number of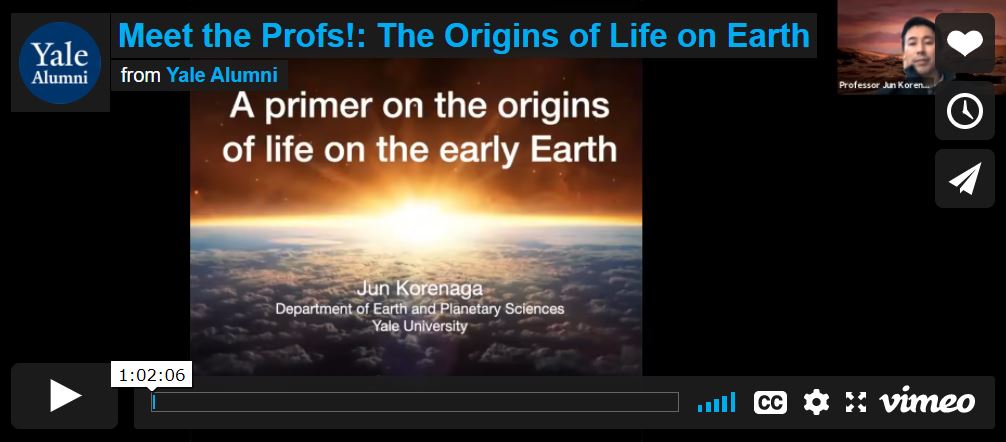 undergraduate research initiatives supported by the YSEA to the wider YSEA membership. It followed that up by hosting its latest installment of the popular "Meet the Profs!" event on Zoom – once again giving the Yale community an opportunity to learn more about the faculty and research profiled in the Yale Scientific Magazine. The YSEA also continued to produce new episodes of its Shining Star podcast, highlighting Yale voices in STEM through a series of short, compelling episodes on a breadth of thought-provoking topics. The strong quality of the programming offered by the YSEA, combined with the organization's diligent marketing and outreach efforts, allow the group to routinely convene 50 to 100-plus Yalies at each event, highlighting the group's ability to bring together students, faculty, and alumni.