Jeremiah Quinlan holds a unique place in the Yale ecosystem, doubling as an alumnus (Class of 2003) as well as the administrator ultimately in charge of assembling the future classes of Yale alumni. He has worked in Admissions since graduating magna cum laude in 2003, with a brief detour to earn his MBA from Northwestern University's Kellogg School of Management. But, of course, he has never experienced an admissions season quite like this one.
With the Class of 2020 now either on campus or taking classes remotely, and with another challenging year on the horizon as Yale and the Yale Admissions team navigate a landscape transformed by COVID-19, Quinlan sat down with us to take a look at how COVID-19 has impacted the admissions process, the role of alumni in this new world, and more.
YAA: Give alumni reading this story a glimpse into what your world has looked like since March. How fundamentally has COVID-19 changed the work you do?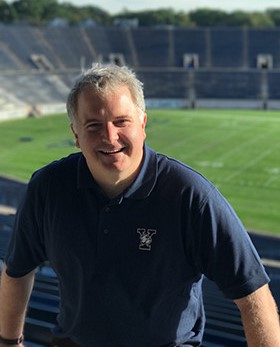 Jeremiah Quinlan: Like many others, the admissions office has changed the format and medium of much of our work, but not the underlying substance. Yale's guidance for non-essential staff to work from home came during the final week of our Admissions Committee meetings. We were able conduct our final meetings virtually, sharing screens to view application documents, and preserving the same open conversation about candidates we typically have in our office conference room.
We have been disappointed to miss the opportunity to welcome both admitted and prospective students to campus this summer, but like everyone else, we pivoted. We transformed our three-day Bulldog Days program for admitted students into "30 Bulldog Days of April" – a collection of daily virtual events that included live classes with Yale professors, "Ask Me Anything" sessions, and even an admitted student talent show.
YAA: And you had to take similar action to accommodate prospective students as well, correct?
JQ: Yes. We quickly created a schedule of daily virtual information sessions for prospective students to replicate what visitors would experience when visiting our office. Prospective students and their families can ask questions of admissions officers and students and learn about academic programs, residential colleges, financial aid, and admissions from anywhere around the world. We found that more prospective students participated in these virtual sessions than attended the on-campus information sessions last summer. Our already popular virtual tour saw a 300% increase in traffic between May and August.
YAA: How did the change affecting the spring semester and the uncertainty surrounding the fall semester affect the admissions process?  
JQ: Fortunately, we made no changes to our selection process, and I am proud that the group of students we admitted was just as exceptionally strong and diverse as any in Yale's history. The members of the Class of 2024 are impressive along all the dimensions the Admissions Committee considered. They are very smart, accomplished, curious, dedicated, and committed to important causes and communities.
I think the class's most impressive characteristics are their resilience and positive attitude. Even when their senior year of high school was upended and their plans for visiting Yale in April abandoned for public health reasons, our admitted students found ways to create community with each other and current Yalies.
YAA: What were the greatest challenges in assembling the Class of 2024?
The most significant challenge came in July, when Yale's plans for the fall term were released. It was critical for us to communicate clearly and honestly with students about the plan, while outlining the available options – including enrolling remotely or in New Haven, requesting a gap year, or taking a leave of absence in the spring term.
We quickly put together several opportunities for students and families to connect with admissions and financial aid officers to answer questions. I think this was very successful, and I'm glad we were able to approve all requests for gap years, while the overwhelming majority of the first-year class opted to begin their studies on time in New Haven.
YAA: What impact will that have on the Class of 2025?
JQ: Fortunately, none. About 20% of our incoming first-years opted to take a gap year this year – in a typical cycle, that number is only 3-4% – but the increase will not have a negative impact on those applying to be part of the Class of 2025. University leadership has approved a plan to offer admission to the same number of students in this coming cycle as in a typical year. So, this year's first-year class was smaller than usual. Next year's class will be larger. The shift won't make it harder for students who are applying out of high school this year to be admitted to Yale.
YAA: Talk about the role of the Alumni Schools Committee and alumni interviewers. How critical are they to the success of the Admissions team and in assembling a class each year?
JQ: ASC volunteers make vital contributions to the admissions process and strengthen the wider Yale community. The ASC program has two primary goals: 1) providing crucial information about applicants to Yale so that the Admissions Committee can make better decisions as it shapes the first-year class, and 2) establishing a Yale presence to educate the local applicants and community members about Yale's unique opportunities, values, and character.
These candid, unscripted interactions can provide great insights about how an applicant might contribute to the Yale community in ways that aren't apparent in other parts of the application.
YAA: Given the travel restrictions currently in place for much of the country, has the role of alumni interviewers taking on an increased importance?
JQ: We've made the decision that all interviews will be conducted virtually this cycle. Even if an alumna or an alumnus lives down the street from an applicant, the expectation is that they will connect over a virtual platform like Zoom.
Despite the required physical distancing, we expect that we will continue to benefit from alumni insights. Alumni often provide great insights about local programs, challenges, and institutions that are relevant to understanding an applicant's context. With so many varied local responses to COVID, we expect that alumni will be able to provide even more relevant context in their reports this year.
Having Yale alumni "on the ground" in communities around the world is enormously valuable for expanding our understanding of the diverse environments where our applicants prepare for college.  
YAA: What is the greatest misconception alumni might have about the admissions process, or perhaps the No. 1 thing you would like them to know?
JQ: Interviews and interview reports really matter! The Admissions Committee considers these reports closely, and we find them very insightful. In many cases our interviewers pick up on essential elements of an applicant's character that appear in other parts of the application but are magnified and expanded through the interview report. Alumni who put thought and reflection into conducting their interviews and writing up their reports make a valuable contribution to the admissions process.
Being so highly selective, I know that many alumni are disappointed when applicants they interview are not admitted. But every positive interaction that a Yale alumna or alumnus has with a local student, and every interview report that's shared with the Admissions Committee, is of significant value to the university. We simply couldn't build a class with the excellence and diversity we seek without our alumni volunteers.