The return of alumni to campus for 2022 Yale College Reunions following a two-year hiatus also marked the resumption of the Yale Veterans Reunion Reception. 
This signature event, organized and hosted by the Yale Veterans Association (YVA) in partnership with the two Reserve Officers' Training Corps (ROTC) units on campus – Naval ROTC and Air Force ROTC Detachment 009 – provided alumni veterans of different military branches, backgrounds, and generations the opportunity to connect with one another and learn more about the current state of veterans and military affairs at the university.
According to Tom Opladen '66, president emeritus of YVA and a U.S. Navy veteran, the event from its inception was always intended to be more than a social gathering.
"When we first started it, it was to honor the veterans, particularly the older veterans," he said. "This gave us a chance to thank them for their service and accord them the honor that they deserved."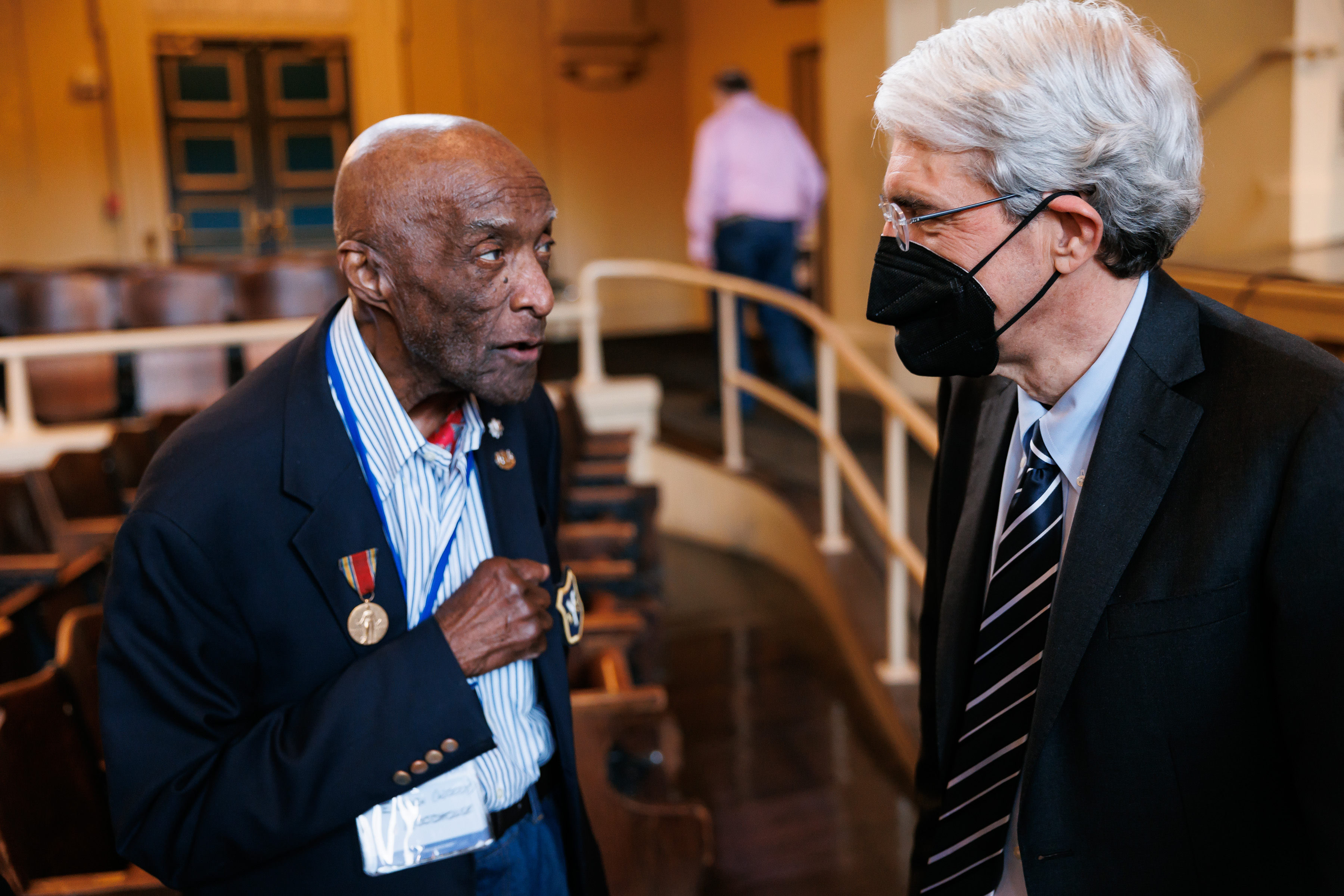 Opladen added that robust outreach and engagement efforts by YVA and Yale in recent years contributed greatly to strengthening the bond between the alumni veteran community and the university.
"The fact that veterans can come back and be proud of their service, and the university recognizes that and honors it, that part is really terrific," he said.
Held during each of the three reunion weekends, the reception attracted alumni whose service in uniform spanned conflicts from World War II, Korea, and Vietnam to Iraq and Afghanistan.
Among the attendees was retired Lt. Col. Enoch Woodhouse II '52, a WWII veteran and one of the few surviving members of the Tuskegee Airmen, who along with his classmates returned to campus to celebrate his 70th reunion. For many, his presence reaffirmed the distinguished history and tradition of service to the nation at Yale.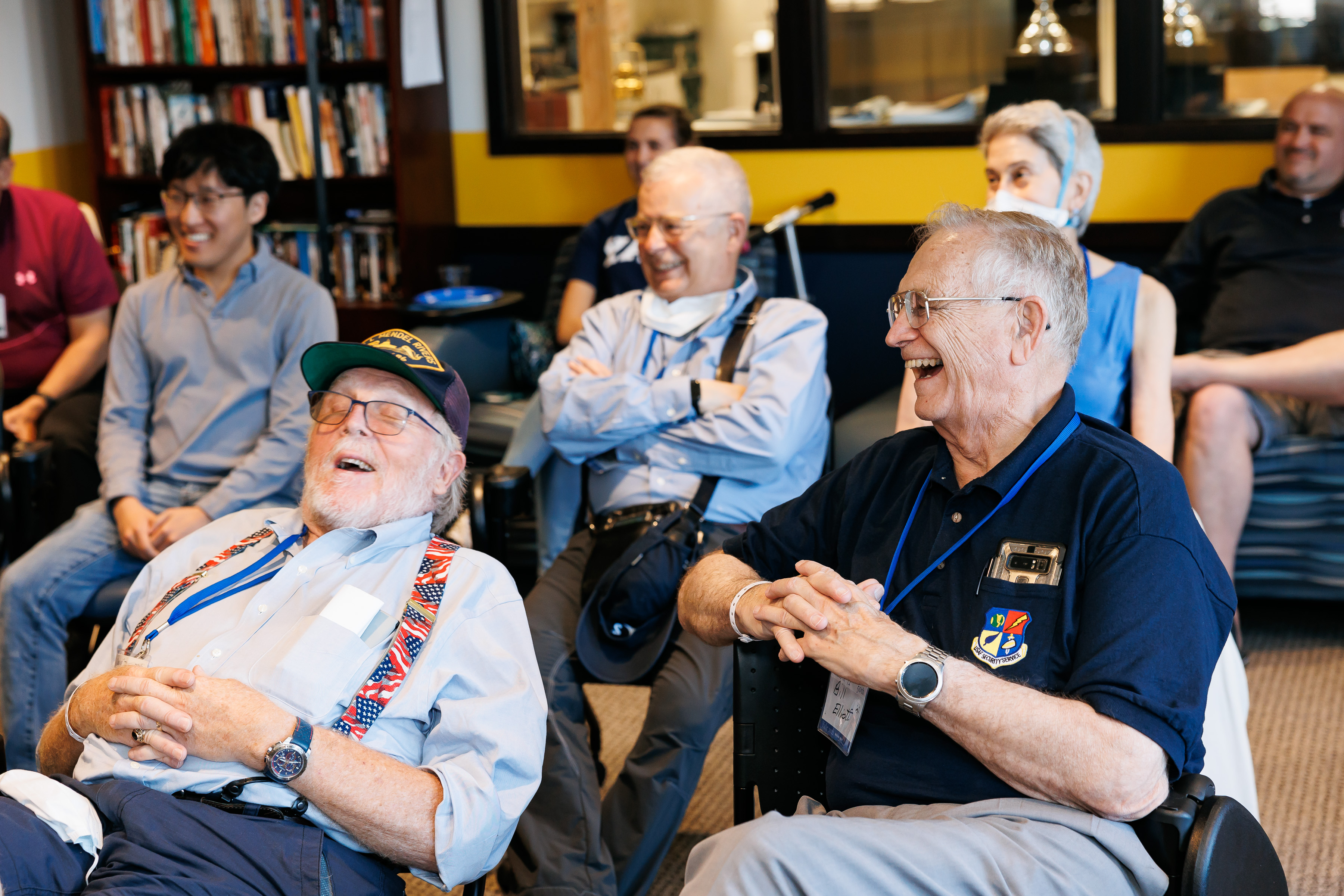 "It was a privilege for me to meet Colonel Woodhouse," said Jack Beecher '84 MPH, a U.S. Air Force veteran who served in Vietnam, and the veteran and military liaison on campus. "His comments reminded me that service above self is a longstanding American military credo and that veterans of all eras have a common bond."
As part of the event programming, cadre officers from Naval and Air Force ROTC provided presentations on their units, covering topics and questions ranging from details about the training of the cadets and midshipmen to major recent achievements and highlights. They were mindful that this year marked a significant occasion for Yale ROTC – the 10th anniversary in which the program was restored, in 2012, after being off campus for four decades.
Back for his 50th reunion, retired Capt. Rusty Pickett '72, who served as a career Navy officer and was the last battalion commander of Naval ROTC when he graduated from Yale, was impressed by the caliber of the ROTC students, and the level of university support to the program.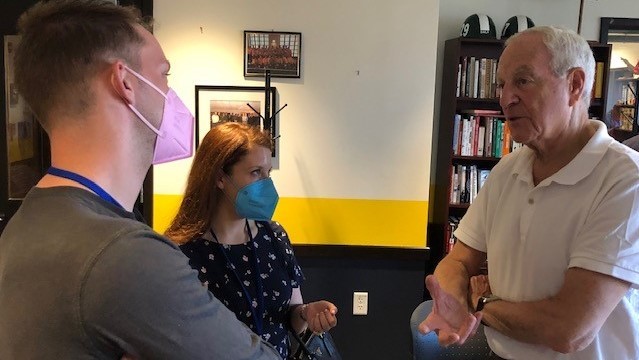 "The units are alive and well," he said. "And Yale is supporting the units well."
Larry Lipsher '62, an Army veteran and YVA board member and treasurer, noted that Yale undergraduates who choose to participate in ROTC do so knowing that, in addition to juggling their considerable course loads and academic-related activities, they are expected to assume duties and responsibilities that test their dedication and commitment to service.
"ROTC students are often taking part in other demanding activities – varsity sports, for example – while fulfilling their military requirements," he said.
Perhaps the most meaningful interactions at the reception were between alumni veterans and those following in their footsteps, including Ensign Andrew Song '22, who is the first Korean American to graduate from Yale Naval ROTC.
"This was the first time I was able to meet ROTC alumni who served during the Vietnam War, the Korean War, and even World War II," he said. "I noticed the immediate camaraderie between the generations, as everyone shared common memories about drilling and the need to balance ROTC with Yale's social life."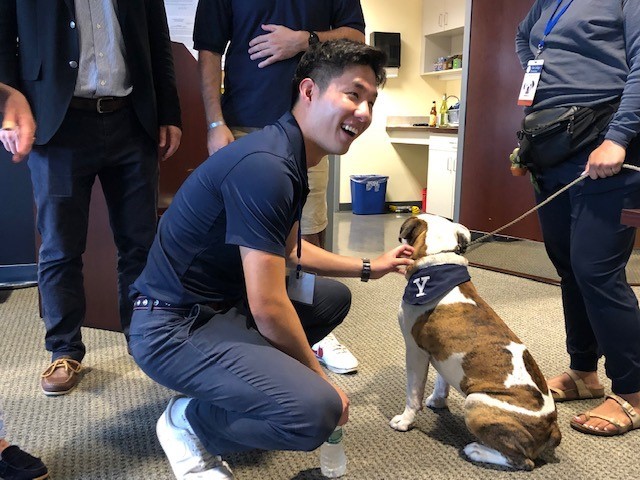 According to Song, the honor of meeting veterans like Woodhouse left him feeling more confident with his decision to pursue a career in the Navy, and doubly motivated to begin his training to become a submarine warfare officer.
"Hearing about his experience made me extremely grateful that Yale men like him not only served, but pushed past racial barriers that allowed Yalies like me to enter the military," he said, mentioning that Woodhouse's simple parting words left an indelible impression.
"Before he embarked, he wished me the best of luck on my new journey in the Navy," Song added. "Definitely unforgettable."