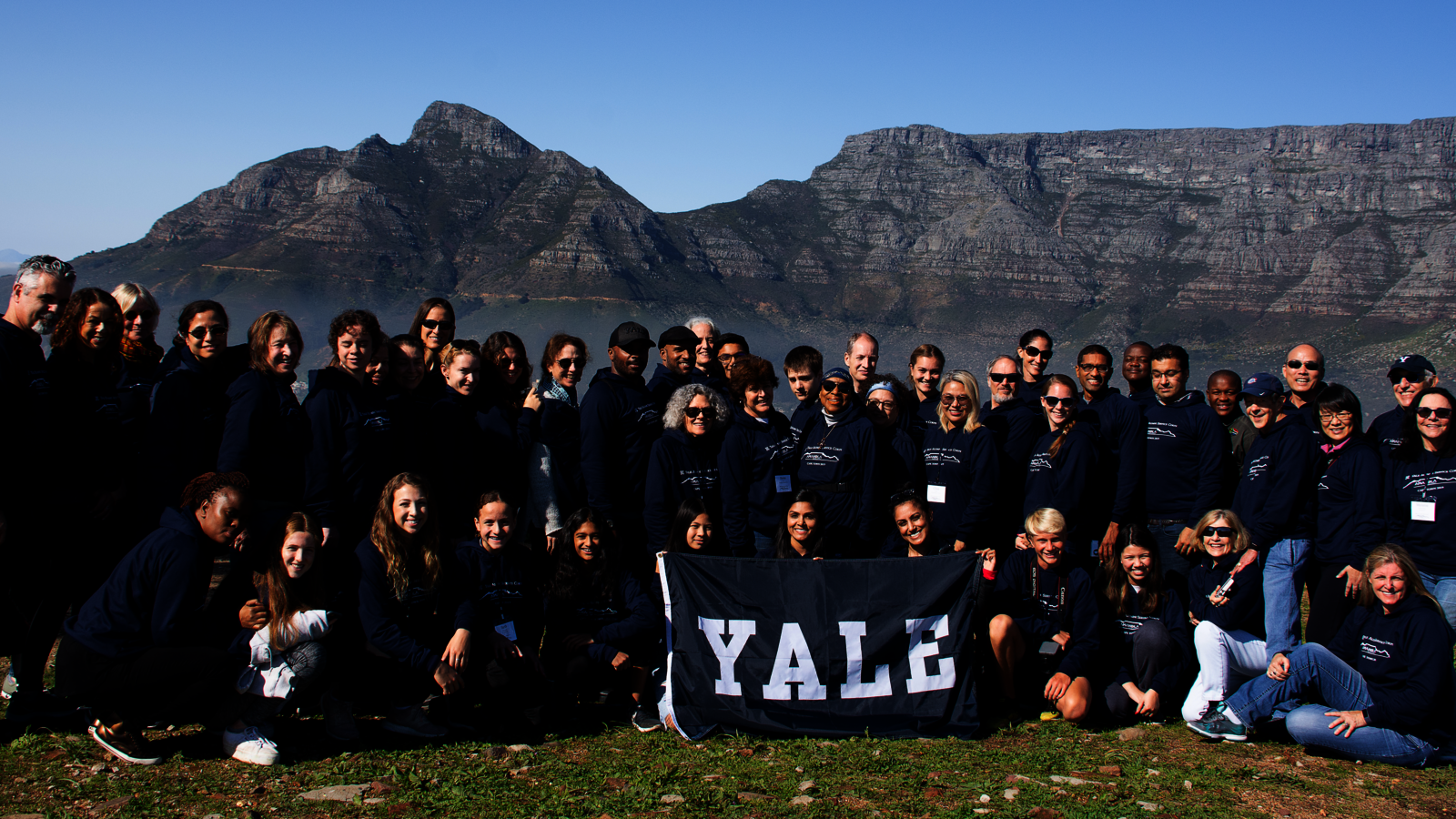 Who We Are and What We Do
Celebrating 15 years of Making a Difference!
Yale Alumni Service Corps (YASC) is a volunteer-led initiative committed to community-driven, sustainable service. Serving where the communities have invited our participation, we collaborate with local communities, organizations, and University partners to assist communities address their self-identified needs and goals. YASC presents opportunities for alumni, family, and friends to come together, use their diverse talents in locally prioritized projects in the arts, education, sports, health, and economic development to serve communities in need, promote mutual cross-cultural awareness and make change together.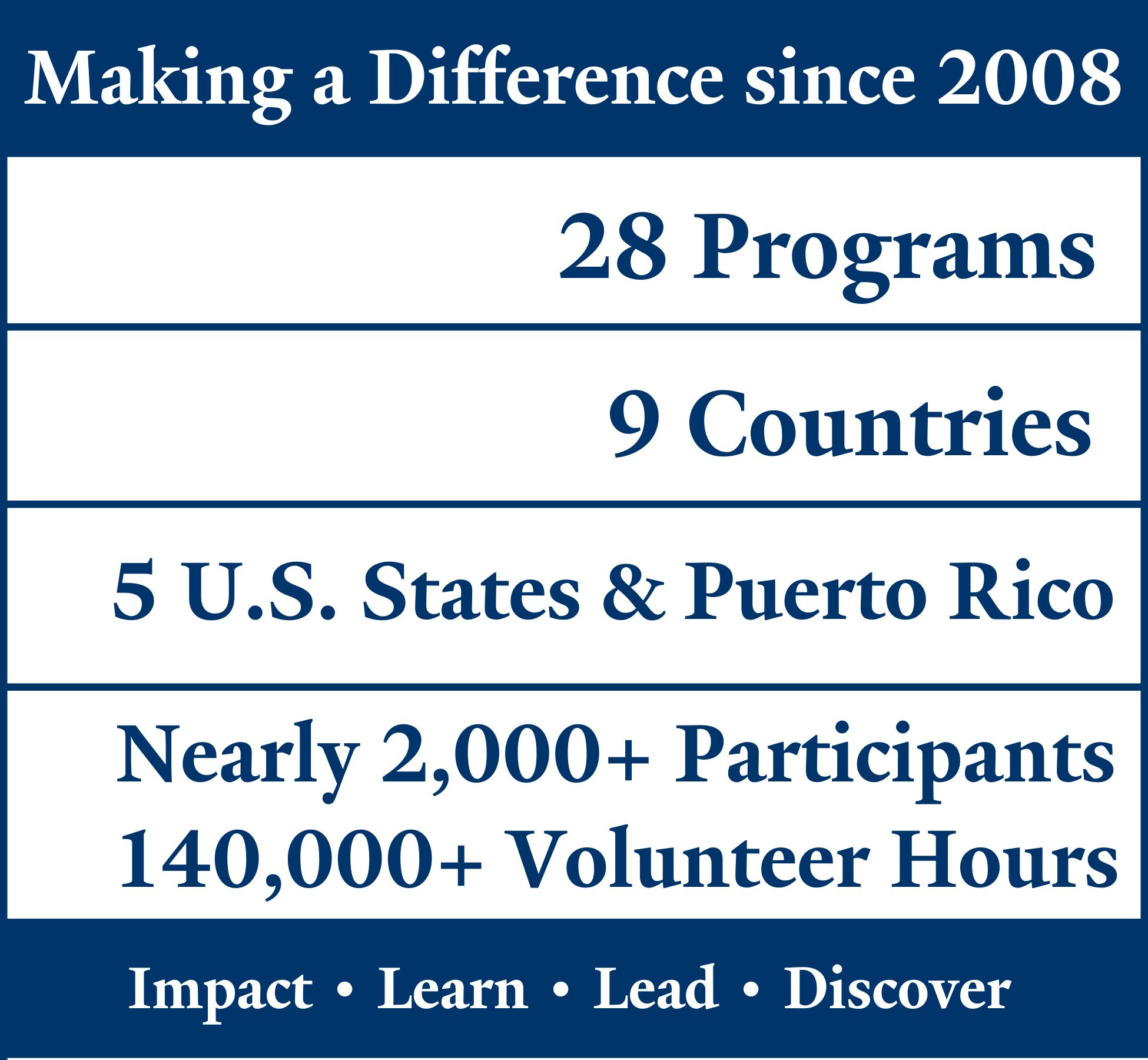 Why YASC is uniquely valuable
For Communities
Community Focus: Service is based on the community's self-identified needs and its prioritized projects where we can make a sustainable, long-term impact.
For Participants
Meaningful and impactful community-driven service experience for all Yale alumni, family, and friends.
For Yale
Primarily alumni-funded, alumni-driven, and managed service organization consistent with Yale's mission and "commitment to improving the world today and for future generations."
Why Volunteer with YASC
Positively Impact

the lives and futures of the communities we serve.

Learn

new skills from your fellow alumni and community members while sharing life-changing bonds and

developing

life-long friendships.

Lead

a project to develop and exercise your leadership skills while you leverage your passion and expertise.

Discover

new cultures, communities, and ecosystems to expand your world view.
FAQs
Here are answers to our frequently asked questions. If you still have a question please contact us. 
Info Accordions
YASC and the host community have identified the needs and projects for a particular trip. The Trip Producer and YASC staff will solicit input from volunteers regarding project interests and preferences, individual volunteer skills and abilities, and volunteer ideas for the identified project. Every effort will be made to assign volunteers to a project of their choice but cannot be guaranteed.
No. YASC is a volunteer-led initiative of the Yale Alumni Association (YAA).
No. The Yale Alumni Service Corps and Yale Alumni Academy are separate entities. In 2021, Yale Educational Travel became Yale Alumni Academy. The Yale Alumni Academy offers travel programs led by Yale faculty and experts.
YASC service trips support the University's goals to enrich and enhance teaching, research, learning and service that explore and contribute to sustainability solutions. The service trips are a part of Yale's mission to provide opportunities for alumni, students, faculty and Yale affiliates to engage and collaborate across disciplines and endeavors to shape a better future.
Yes, YASC is committed to fulfilling Yale's dedication to sustainable development that meets the needs of the present without compromising the ability of future generations to meet their own needs. For more information about Yale's commitment to its leadership role in sustainability teaching, research, operations and service, see Yale's sustainability website.
Yes. If you have an idea for a gift that you would like to make, please discuss it with a member of the YASC staff, the Trip Producer, or a member of the YASC Board. Gifts from volunteers are welcomed by YASC but are provided to the community by YASC as an organization.
No. Please do not provide gifts directly to individual members of the community or to local organizations. Personal gifts disrupt the community nature of our work, may establish inequity and disruption, and may establish unrealistic expectations in the community of future gifts.
There may be items needed for particular projects on a service trip. Please coordinate donations of needed project supplies through the Project Leaders.
Yes. Donations may be made to YASC and should be coordinated through YASC staff or a member of the YASC Board.
YASC maintains a fund built with financial donations that enables YASC to offer financial aid assistance for students and/or alumni to participate in a service trip. YASC encourages those volunteers who can to contribute to the fund.
No. YASC does not offer scholarships for the optional excursion trip. Purchasers of the optional excursion trip are ineligible for scholarships for the service program.
The level of strenuous activity can vary. So that all involved may enjoy the experience, participants must be in good physical and mental health and be able to keep up with the pace of the group. YASC retains the right to decline, to accept, or to retain any person as a member of the service trip who, in the opinion YASC is unfit for travel or whose physical or mental condition may constitute a danger to themselves or to others on the trip. Any condition that may require assistance or medical attention must be received by YASC by the date stated in the service trip brochure. Anyone requiring extraordinary assistance must be accompanies by a companion who is fit and able to assist them and who will be wholly responsible for providing such assistance. Due to liability and their service trip responsibilities, YASC cannot ask project leaders or staff to provide such aid. If you have any questions regarding the fitness level of a particular service trip, please refer to the trip description or contact YASC at 203-432-1952.
It is the expectation of YASC that its volunteers devote 100% of their time to the program while in the host community and that volunteer use of cell phones/computers will be limited to scheduled program downtime and emergencies only.
Code of Conduct
The YASC Code of Conduct communicates the values of Yale and YASC with respect to service trips, delineates the expectations for volunteers, and the commitment by service trip volunteers to adhere to all policies and procedures.
Info Accordions
As a YASC volunteer, I understand that I am an ambassador for and a representative of Yale and YASC and as such, my actions will reflect the core values and mission of Yale and YASC at all times during the service trip.
I understand that YASC, in partnership with the local host community, has identified the needs of the community and developed goals and projects for the service trip.
I understand that I am a guest of the local community and as such I will be respectful of the local values and traditions. I will seek to learn about our host community and culture, understand our similarities and our differences, and interact without assumptions or judgment.
I will maintain an attitude of respect, courtesy, and understanding at all times, with an open mind to new ideas and procedures.
I will communicate my skills and project preferences to the Trip Producer and will remain flexible in any way necessary to maximize the success of the service trip and the benefit to the host community, including adapting my project plans and skills to the needs of the specific project to which I am assigned.
I will commit to working with other volunteers as a team and will accept the guidance and leadership of the Project Leaders, the Trip Producer, and YASC staff.
I understand that youth volunteers age 12 and above are welcome on YASC service trips, provided that I, as their parent or guardian, accompany them and they participate in their assigned service activities. All youth 18 and under must be accompanied by a parent or designated guardian, Participants under the age of 14 will be assigned to the same community service activity to which I am assigned. I am responsible for providing supervision of the youth accompanying me during the assigned service project and throughout the duration of the service trip. I will not have individuals accompany me on the service trip who are under the age of 12 or who do not participate in assigned service activities.
I understand that participation in a YASC service trip requires a commitment of time and effort in preparation for, as well as during the trip. I will commit to using my best efforts to: respond promptly to communications from the Project Leaders and the Trip Producer; participate in orientation activities as offered prior to the trip; and read all pre-trip newsletters. I will communicate clearly with the Project Leader regarding my availability to participate in pre-trip planning and will commit to making a best effort to support my team in planning and preparation.
I understand the expectation of volunteering with YASC entails devoting 100% of my time to the program while in the host community and will restrict my use of a cell phone to scheduled program downtime and emergencies only.
I will strive to remain flexible and adaptable throughout the trip, to keep an open mind, and to be prepared to change my understanding and my plans as needed.
I will communicate any concerns as needed to the Project Leaders, Trip Producer, or YASC staff.
If a problem or misunderstanding arises between myself and other trip participants, I will communicate respectfully with trip participants and attempt to resolve any problems cooperatively; discuss the matter with the Project Leader, Trip Producer, or YASC staff if I am not comfortable with direct communication or unable to otherwise resolve the matter.
I understand that YASC in its sole discretion may revoke my admission or limit or terminate my participation, at my sole expense and without the refund of any service trip fees or other costs, at any time, if in YASC's opinion, my behavior, actions or condition do not align with YASC's service goals and objectives, jeopardize the success of the service trip, are disruptive, or when such an action is determined by YASC to be in the best interest of the my health and safety, or the general welfare of others.
Advisory Board
Info Accordions
Andrew Burgie '87

, Chair, Board member since 2019
Brooklyn, NY
Profession: Industrial Hygienist
#YASC Trips: 10
China 2011, Nicaragua 2012, Ghana 2012, Nicaragua 2013, Ghana 2013, India 2014, Brazil 2016, Brazil 2017, Puerto Rico 2020, Puerto Rico 2023 (trip producer)
 

Karen Green '78

, Vice-Chair, 

Board member since 2018




Playa Del Rey, CA


Profession: Attorney
#YASC Trips: 3
Fort Mojave 2017, Cape Town 2019, Fort Mojave 2023 (trip producer)
 

Danielle Morgan '00 MSN

, Secretary, Board member since 2020
Guilford, CT
Profession: Nurse Practitioner
#YASC Trips: 1
DR 2019
 

Liz

McKinnon

 '88

, Board member since 2019
Seattle, WA
Profession: Physician (Obstetrics and Gynecology)
#YASC Trips: 4
Brazil 2016, Brazil 2017, Cape Town 2018, Cape Town 2019 (trip producer)
 

Ann Kennedy

, Board member since 2020
Arlington, VA
Profession: Professor


#YASC Trips: 6




India 2015, Brazil 2017, Cape Town 2018, DR 2019, Puerto Rico 2020, 

Puerto Rico 2023
 

Nancy Malone '92 MBA/MPH

, Board member since 2017
Hackensack, NJ
Profession: Consultant
#YASC Trips: 1
Brazil 2017
 

Arikha Moses '98 PhD

, Board member since 2017
Larchmont, NY
Profession: Management, healthcare
#YASC Trips: 3
India 2015, Ghana 2016, Cape Town 2018
 

Alfred Renaud '97

, Board member since 2018
Toronto, Canada
Profession: Healthcare informatics
#YASC Trips: 3
Brazil 2016, Cape Town 2018, Cape Town 2019
 

Perry Sayles '88

, Board member since 2016
Shelter Island, NY
Profession: Interior designer
#YASC Trips: 5
India 2014, Brazil 2016, Brazil 2017, Cape Town 2018, DR 2019 (trip producer)
 

Martha Sottosanti '92

, Board member since 2019
La Jolla, CA
Profession: Attorney, mom, community volunteer
#YASC Trips: 3
Brazil 2016, Brazil 2017, Puerto Rico 2023
Connect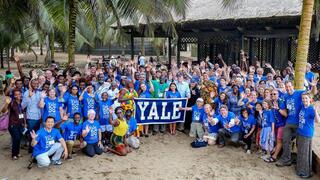 Join us on a trip or participate in a virtual service event.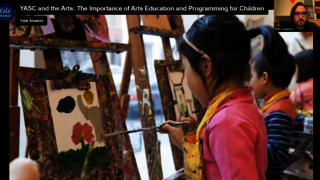 Watch our videos to learn more about our programs.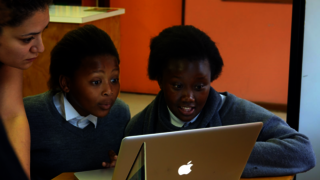 Want to be involved but don't know where to start?