The Day of Service program of the Yale Alumni Association welcomes new alumni co-chairs, Karen Green '78 and Rob Greenly '83 MBA, to serve a two-year term through Fall 2023.
Green, a Los Angeles resident, served as volunteer with the Yale Alumni Service Corps (YASC) for the Fort Mojave Indian Tribe (Nevada) trip in 2017, leading the trip's college outreach initiative, and currently serves on the YASC advisory board. She is also a newly appointed at-large delegate to the YAA Assembly and participates regularly in the alumni service community of practice.
Originally from South Carolina, Greenly hails from Boston and just completed a five-year stint on the YAA Board of Governors, where he served as both a board member and an executive officer. He was previously a member of the School of Management (SOM) Alumni Association Board of Directors and, in addition, has been active in reunion planning, SOM, and YaleBoston volunteer activities.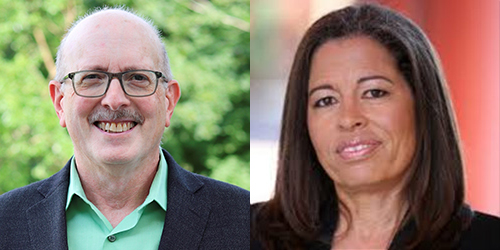 "I am deeply honored and delighted to take on this role," said Green. "I'm looking forward to learning more about what I can do to promote the ongoing success of this wonderful and impactful endeavor." 
Greenly shared similar sentiments, adding, "Karen and I are eager to start thinking ahead to strategies for 2021-22 and laying groundwork for 2022-23."
Related: Yale Alumni LIVE with the New Yale Day of Service Co-Chairs: Oct. 5 at 1 p.m. ET
Green and Greenly will replace outgoing co-chairs Paul Broholm '78 and Elizabeth "Betsy" Sullivan '74, '76 MA, whose two-year term (2019-21) encompassed the most challenging Day of Service cycle in the program's 13-year history. Transitioning the traditional in-person service model to an all-virtual one, engaging fellow alums from around the globe, and supporting Day of Service volunteer leaders required constantly changing skills and technology.  
"It's been challenging, of course, in this remote environment, but also so much fun working with the Yale Day of Service team to take a step back and rethink how we elevate, celebrate, and diversify what service means to our Yale alum community," Sullivan said. "I miss the hands-on, in-person projects, for sure, but thanks to everyone's efforts, I think it's been a productive two years!"
Sullivan (Ohio) and Broholm (Netherlands) will each stay involved in their regional service activities and as leaders in the alumni community. They will officially hand the Day of Service reins to Green and Greenly on October 5 at 1 p.m. ET as part of the YAA's Celebrate Service Week.
Celebrate Service Week is part of the larger Year or Service. In lieu of a day that all Yalies could participate in an in-person service event, the YAA is celebrating 2020 and 2021 as years of service, which highlighted themes of community, changemaking, equity, and access for healthcare, education, and senior services, social justice, artistic practice, relationship building, resilience, and much more.
"I think it's wonderful to do this celebration," said Broholm. "And I hope that it marks a moment where we can return to more familiar ways of serving, while building on what we have learned in the past two years."
Added YAA Executive Director Weili Cheng '77: "Service is, has always been, and always will be an integral part of the Yale experience. I'm thrilled that our alumni leaders engage their fellow Yalies in this important and meaningful work, all while helping their local communities in the process."