Welcome Yale College Class of 2000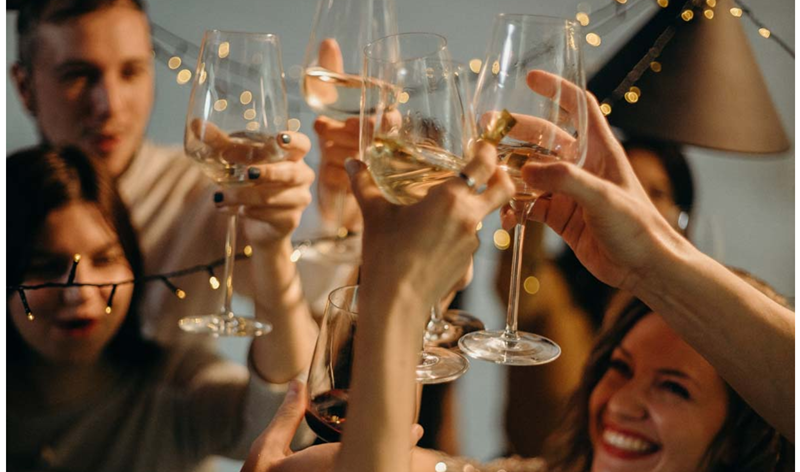 IT'S BEEN 20 YEARS!
While we had planned to gather in person THIS WEEKEND in New Haven, we are thankful for the opportunity to see you virtually this coming Saturday, May 23, 2020, for the first-ever Yale Class of 2000 Virtual Reunion. #OYO20YearAgo
This webpage contains the details you need for Saturday, including the schedule of events and necessary Zoom details.
While we remain optimistic for a rescheduled, in-person reunion in 2021 (fingers crossed!), it is not guaranteed. As such, we greatly hope you will join your fellow classmates this Saturday from 9 am-3pm EST for the memorable, celebratory day we have planned.
We want to thank all of you who stepped forward to make our 20th reunion possible virtually.  We also are extremely grateful for the support and resources that the Yale Alumni Association has provided over the past year.
Boola Boola! See you Saturday!
Alyssa Rapp DC '00
Elizabeth "Zab" Wilson TD '00
Yale College 20th Reunion Chairs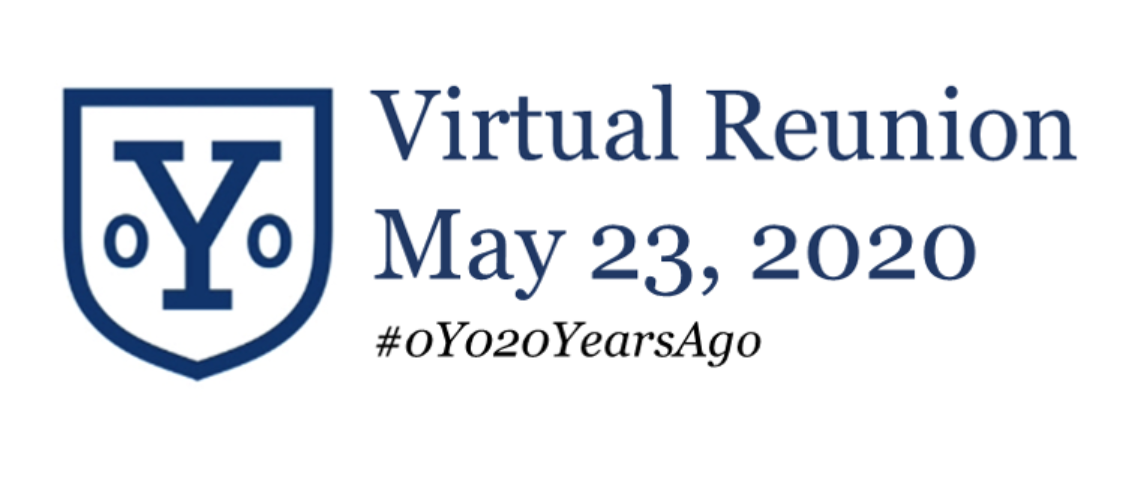 The purpose of the 0Y0 Virtual Reunion is for classmates to reconnect, celebrate the diverse talents of our class, and toast to 20 years since our Yale graduation!
Registration: 
Registration is required for the 0Y0 Virtual 
Please register and receive the Zoom details for the main Zoom meeting room. FYI: The 0Y0 Virtual Reunion will be recorded. After registering, you will receive a confirmation email containing information about joining the meeting.
0Y0 Virtual Reunion Schedule:
(All times are ET)
Scheduling note: We are delighted that so many classmates are joining the 0Y0 Virtual Reunion from across the globe. As a result, we have scheduled the day so that as many classmates can attend as possible. We recognize that, due to differences in time zones, all classmates will not be able to attend all sessions. Please feel free to join as many as your schedule allows.  We also invite you to enjoy the virtual reunion with family members who are quarantined with you, especially during the Lunch & Learn and Residential College Breakouts.  
9:00-9:15 am Virtual Reunion Welcome and Class Gift Update by Class Leadership
9:15-9:25 am: Pop-up Performance by 0Y0 Classmates
9:30-9:45 am: Virtual Walking Tour of Yale Campus: 2000 v. 2020 by Shana Schneider PC '00
9:45-10:15 am: 19 Tips for Leading and 19 Tips for Living in the Covid-19 Era by Alyssa Rapp DC '00
10:15-10:55 am: Classmates Panel: Yale Class of 2000 on China by Priscilla Song MC '00, Joe Walline ES '00, Carol Li Rafferty MC '00, Denise Ho BC '00, and PT Black DC '00 moderated by Professor Deborah Davis, Yale Professor Emerita of Sociology
11:00-11:55 am: Strategies for Healthy Emotion Regulation During Uncertain Times with Dr. Marc Brackett, Founder and Director of the Yale Center for Emotional Intelligence   
2:00-12:15 pm: Address by YAA Executive Director, Weili Cheng '77 and Yale College Dean Marvin Chun
12:20-12:45 pm: Lunch & Learn (Family-Friendly) Making An Animated Show - From Script to Screen by Nicole Dubuc MC '00
12:45-1:00 pm: Pop-Up Performances by Benjamin Eakeley DC '00 and Maiya Sykes SY '00
1:00-1:10 pm Transition to Residential College Breakouts
1:10-2:30 pm: Residential College Breakouts (Opportunity for each classmate to share an update, introduce family members, and catch-up with residential college friends)
2:40-2:55 pm: Moment of Silence for Classmates No Longer with Us led by Nina Giuliano ES '00 and #0Y020yearsago Class Toast
3:00 pm+: Happy Hour, Dance Party, Singles' Meet Up
Residential College Breakout Zoom Details:
As noted above, at 1:10 pm ET, we will have Zoom rooms for each of the residential colleges with a volunteer host (see list below).  If your residential  college is not listed below and you would like to host a Zoom breakout for your college in Saturday at 1:10 pm, please schedule a Zoom meeting and email the details to zabw2000@gmail.com so we may include your residential college breakout during the 0Y0 Virtual Reunion. 
Berkeley College –  Diana Ecker      
Branford College –         
Davenport College – Alyssa Rapp
Ezra Stiles College – Keith Berman
Grace Hopper/Calhoun College –            
Jonathan Edwards College –       
Morse College – Ben Diamond
Pierson College – Tony Melson
Saybrook College – Zachary D. Kaufman
Silliman College –
Timothy Dwight College – Zab Wilson
Trumbull College – Maria S. A. Sorensen

Giving Back during This Unprecedented Time:
P.S. In true Yale spirit, we hope our 20th virtual reunion will benefit not only each of us, but also our broader community. To that end, we welcome your contributions to the Yale COVID Research Resource Fund. It is one of three funds Yale has established to support the COVID-19 efforts. This fund is used to purchase PPE. While donations are certainly not required, we invite you to donate here if you wish.
Class of 2000 Leadership:
Reunion Co-Chairs: Alyssa Rapp DC '00 and Zab Wilson TD '00
Reunion Planning Committee: 
Keith Berman ES '00
Benjamin Diamond MC '00
Benjamin Eakeley DC '00
Andy Elwell BK '00
Diane Potkay Lenskold PC '00 
Stefanie Lindskog Morin BR '00
Elizabeth Ren TD '00
Matthew Shaddock CC/GH '00
Anne Taylor BK '00

Class Officers: Barbara Ellis BK '00 and Gina Constantine BK '00