2023 Honorees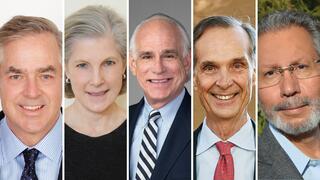 About the Yale Medal
Info Accordions
The Yale Medal is given for outstanding service to Yale, in recognition of extensive, exemplary voluntary service on behalf of Yale as a whole or one of its many schools, institutes or programs.  The Yale Medal is awarded once a year during the YAA Assembly to up to five persons. Winners must be able to attend the Yale Medal dinner in November to receive the medal.
Nominations are accepted at any time. Alumni and friends of the university are encouraged to nominate qualified individuals using this form: Yale Medal Nomination.
Nominations: Year round
Submission Deadline for that year's consideration: February
Selection: April Alumni Association Board Meeting 
Winners Notified: May/June
Award Presentation: November at Yale Medal Dinner during the YAA Assembly/Yale Alumni Fund Convocation
The Yale Alumni Association awards the Yale Medal. The selection committee consists of not fewer than six YAA Board members. Other committee members serving ex officio members are the Executive Director of the YAA, the Provost, the Secretary and Vice President for Student Life, the Vice President for Alumni Affairs & Development, a representative from the president's office, a member of the Corporation, and three faculty members. The committee may nominate up to five persons a year to receive the Yale Medal and the slate is approved the full board.
All past recipients of the Yale Medal can be found on our Award Recipient page and can be searched by name and year.