Coming to a Location Near You
You don't have to be in New Haven to see, hear, and learn from some of the university's finest academic minds. Thanks to the YAA-Redpath Speakers Program, we are very fortunate to have Yale faculty who travel the globe to speak to alumni at regional Yale club events and seminars, bringing educational programs and opportunities to a town near you. These events vary in focus and topic, but all are geared toward alumni audiences.
This program is supported by the Redpath Fund, in memory of Robert Redpath Jr. '28.
If you would like to see more faculty speakers and other intellectual programming in your area, contact your regional club leaders. And if you're a regional club leader, visit the Regional Clubs toolkit page to learn more about how to request a faculty speaker.
Many faculty members also travel to speak in conjunction with or on the behalf of their department within the Graduate School of Arts and Sciences or their professional school. Check with your school for more information on what speakers might be coming to your area.
Club Toolkit
Club leaders: Visit the Club Toolkit for information on bringing a speaker to your local area, suggested speakers, minimum audience size, and more.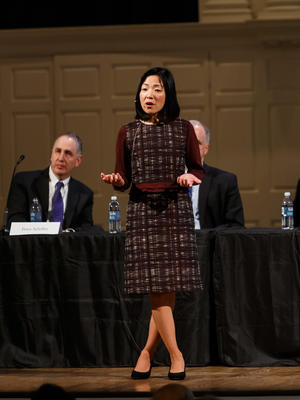 Search for Speakers
Looking for a Yale faculty member or administrators to speak at a club function? Check out our Redpath Speakers page and search by speaker or department.
Find Events
To find a Yale regional club event in your area, please visit our events calendar and search by club program and/or location.
About the Redpath Fund
The Redpath Fund is an endowment established in honor or Robert U. Redpath Jr. '28. Mr. Redpath was a great advocate for lifelong learning, believing that Commencement should be viewed as the beginning of one's ongoing education. With that spirit in mind, the Redpath Fund extends Yale's ability to bring educational programs to Yale graduates across the country.
Mr. Redpath joined the Yale Club of Central New Jersey in 1930, serving as chairman of the club's Alumni Schools Committee for more than three decades. In this capacity, he led hundreds of applicants through the process of applying to Yale. In addition, he served as president of the Yale Club of Central New Jersey and for 42 years was secretary of the Yale College Class of 1928. He was awarded the Yale Medal in 1968, the highest honor bestowed for service to Yale.