Hundreds of alumni leaders gathered in New Haven this month for the annual Yale Alumni Association Assembly and Yale Alumni Fund Convocation. The forum provided an opportunity for alumni to learn from their peers, discuss available resources, and gain deeper insights on Yale's impact on the world. 
The theme for this year's Assembly and Convocation was "Yale's Global Initiatives: Impact for Humanity," and that exploration of how the university supports the Yale community to improve the human condition was highlighted throughout the two-day in-person event, held November 10-11.
"As we work toward the discovery of truth on campus, we can also see, with alarming consequence, the dissemination of falsehood around the globe," President Peter Salovey '86 PhD said of this year's theme in his welcome remarks. "So, we need to prepare leaders to be critical thinkers and to be informed by facts and analysis. It is Yale's responsibility to share light and truth — to increase knowledge and understanding of pressing challenges."
In addition to Salovey's opening address, the 2022 Assembly and Convocation featured plenary sessions with faculty and alumni and breakout tours of the newest facilities on campus. Among its many highlights were a Yale Jackson School of Global Affairs Panel featuring Dean James Levinsohn and Ambassador Paul Simons and an alumni roundtable with Yale Board of Trustees members Joshua L. Steiner '87, Marta L. Tellado '02 PhD, and Joshua Bekenstein '80.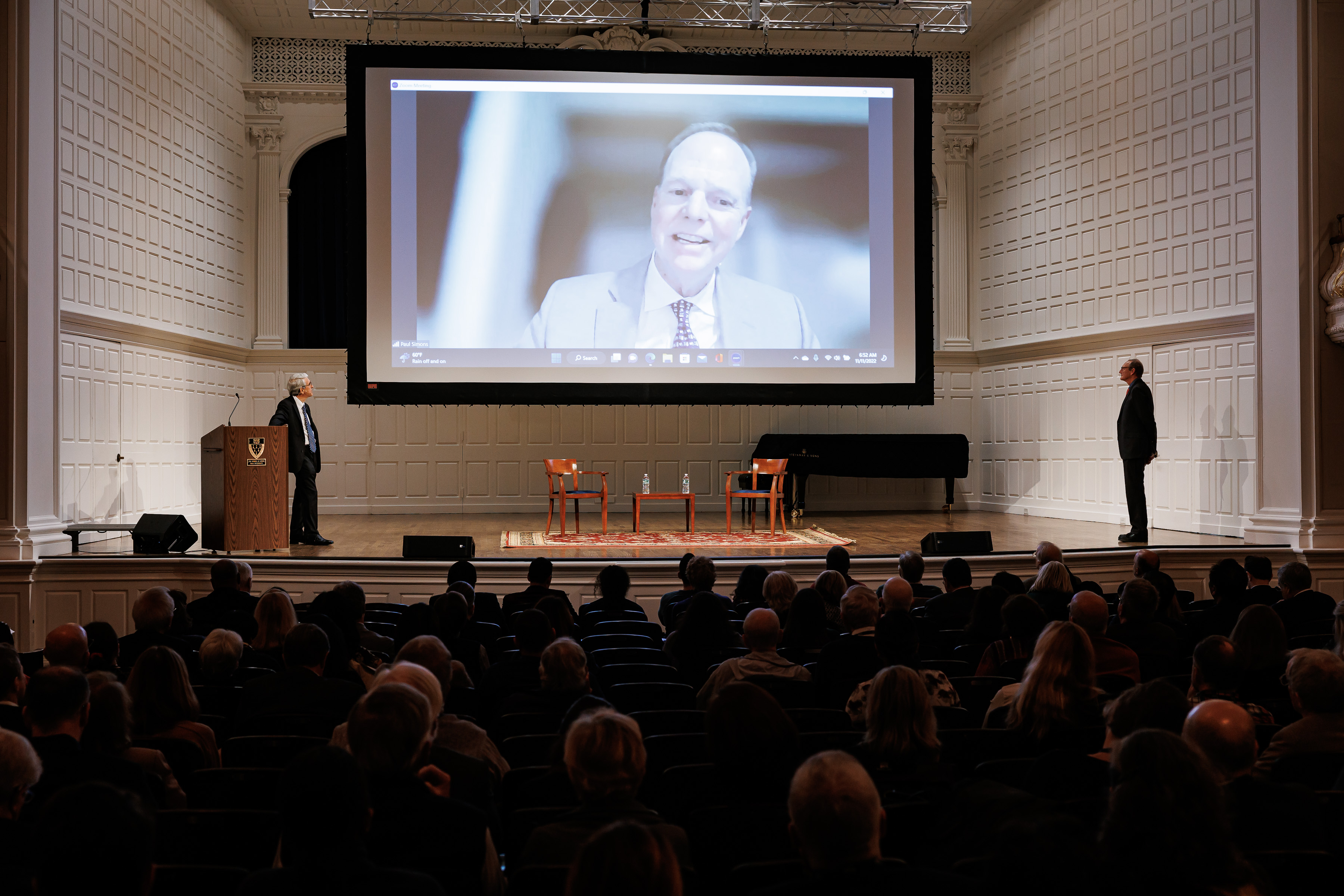 "Yale really does build bridges for its students. This diversity of academic and work backgrounds is what makes the Yale experience," said Ambassador Paul Simons, who joined the assembly virtually during the Jackson School panel discussion. "We bring guests, readings, and perspectives from all points of view into our classroom. It's extremely important, particularly in the energy and climate space. We need to hear from all voices."
"When I came to my first one of these, I thought I was a pretty committed Supporter of Yale," said Eric Allen '76, a member of the Yale Alumni Fund Board. "But against my expectations, I keep becoming more convinced of the importance of Yale and its peers, to the world. And, just as unexpectedly, I am more convinced of the importance of engaged alumni to Yale's success."
Related: Yale Alumni Trustees discuss leadership and engagement during Assembly and Convocation roundtable
Assembly and Convocation returned to its traditional in-person format this year after being held virtually in 2020 and 2021. With this return to New Haven, the gathering also included awards ceremonies for the Yale Medal, the YAA Leadership Awards, YAA Board of Governors Excellence Awards, and Alumni Schools Committee awards. 
The return to campus also provided an opportunity for alumni volunteers to tour new and updated campus landmarks. This year, tours of the Humanities Quadrangle, Schwarzman Center, Pauli Murray college, and Benjamin Franklin college were offered as an optional event to those who arrived before the official Assembly and Convocation opening ceremony. 
"Our goal for 2022 was to maximize the opportunities that cannot be recreated in virtual spaces," said Mara Balk, Associate Director, Volunteer Engagement at the YAA. She and other members of the planning team aimed to highlight the physical aspects of Yale that made being in New Haven unique and special.
"The overwhelming response is that people wanted more of this and we're excited to work on expanding the offerings next year," she continued. 
"Being able to tour the Humanity Quadrangle and Schwarzman Center, and celebrating with fellow Yalies in the renovated Commons filled my heart with awe and love for Yale," said Xiaoyan Huang '91, Chair of the YAA Board of Governors. 
"After 2 years of online connections with fellow alumni, the elation and energy during the on-campus Assembly was palpable. The Board of Governors awards and Yale Medal ceremony celebrations inspired me and renewed my desire to continue to contribute to Yale and the global Yale alumni community."  
Interested in becoming an alumni leader? Learn more about Assembly and Convocation and discover ways to get involved.