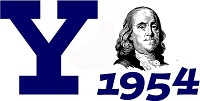 Yale Class of 1954
65th Reunion – May 23-26, 2019
Dear Classmates, Surviving Partners and Friends,
Ben Franklin would be proud of us: we started another revolution! Yale, for years, has always put the 65th reunion class in Jonathan Edwards College. "Convenient for the old codgers."
But Yale is going to let us hold the fort at Benjamin Franklin College. Thanks to a healthy class treasury, the reunion will be free.
Mobility is a real concern for many of us. The AYA has a reunion shuttle system and is looking into how best to handle our transportation needs for the weekend.
If you missed out on a room in the recent reunion hotel block mailing, don't despair. There are a number of hotels outside downtown New Haven. (There's also Ben Franklin!!) Please see the "Travel & Accommodations" link on the left-hand side of this webpage.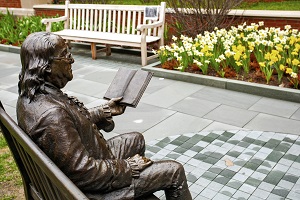 Revisit this website for progressive updates on class programs, faculty lectures and a tally of classmates planning to attend our reunion.
With this letter we are asking you to let us know whether you plan to attend our 65th. You can pre-register here by clicking on the "Pre-Register Now!" link, or wait for our paper mailing and send back the enclosed post card.
Please stay in touch and plan on joining us in May to help make this another record for our class. Any questions, call me at 508-733-4930 or email me at cbeshedd@gmail.com.
Cheers!
Carl Shedd
Reunion Chairman