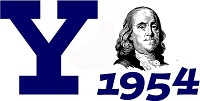 Yale Class of 1954
65th Reunion – May 23-26, 2019
Dear Classmates, Surviving Partners and Friends,
"The time has come," the Walrus said.... Register now for our spirited 65th reunion weekend May 23-26, 2019 in beautiful new Benjamin Franklin College! This will be a wonderful opportunity to spend quality time with friends and classmates. The reunion schedule offers an array of appealing Class of 1954 events as well as Yale events from which to choose. We promise good chow, great collegiality and a festive atmosphere.
REUNION HIGHLIGHTS:  The complete reunion schedule is contained under the tab, "Program & Schedule" at left. The weekend is free for us as well as housing in Ben Franklin. We especially want to welcome the surviving partners of our classmates to join us as complementary guests.
ACCOMMODATIONS:  Downtown reunion hotel blocks are full (check for possible late spring cancellations) but there are a number of hotels outside of downtown. Rooms may still be available at the La Quinta Inn and Suites (203) 562-1111 located on Long Wharf. Very reasonable rates and the hotel will be serviced by the reunion shuttles.
WHO'S COMING?  Be sure to click on the tab at left to see the long list of classmates who have already indicated they plan to attend. If your friends' names do not appear, call them! Note: If a name has an asterisk next to it, that person has registered.
REGISTER NOW!  Last fall many of you pre-registered for the reunion, letting us know whether you would be able to come or not. Now we are asking you to Register Now, choose which meals you will be having with us, and sign up for on-campus housing. The Yale Alumni Association must know you are coming to have counts for meals and other activities. As an alternative to online registration, you may fill out the reservation form you will receive by mail.
Watch your mail for your new 65th Reunion Directory in early April. We look forward to a memorable time in May in New Haven with you and yours. 
                                                                                                       
Carl Shedd