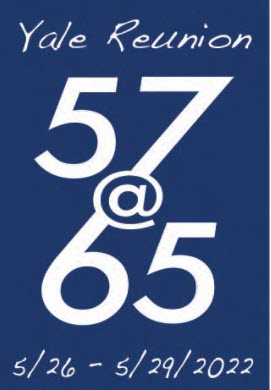 Dear Classmates, 
We welcome the news that the 65th Reunion of the Yale Class of 1957 will be held IN PERSON, and you can now register.   Our reunion headquarters will be at Jonathan Edwards College, which will be convenient to most reunion activities and the Chapel Street hotels. A registration packet will soon arrive. It will include requests for accommodations for those wishing to stay at Jonathan Edwards. 
We are at work on an exciting list of class activities in addition to the University lectures and tours. There will be ample time to sit and reminisce with friends old and new. 
The Yale Dining Service continues to excel and will provide a wide variety of delicious meals accompanied by our specially chosen wines.  The New Haven students participating in the Class of 1957 nationally recognized Music in the School Initiative (MISI) will be part of our get together 
Register Now to sign up for the reunion and campus housing. Also, please refer to the Program & Schedule tab for the full schedule of our Class Program. 
Please note that the YAA reunion website now requires a log-in to register. Do read the instructions carefully and understand that you will need to create a new password to continue into the site. If you need assistance with this process, please email reunions@yale.edu. 
Anyone needing financial assistance can contact Jennifer Cruz at jennifer.cruz@yale.edu for a confidential conversation. 
To have gotten to be our age is to be honored. Whether our years at Yale were enjoyable or not, one cannot doubt that they were formative influences on our lives and careers. Significant anniversaries are to be noted and celebrated. A 65th college reunion is certainly in that category, not Rah-Rah but grateful for where we are and for what we have received. 
Please put aside May 26-29, 2022, for the "great return." If you wish to see your friends, in the words of Yale cartoonist Garry Trudeau, "Ye gotta call'em." 
Kindest regards, 
Bern Kosto, Chair '57@65 
Links: