'85 Yale College Class - check out the weekend events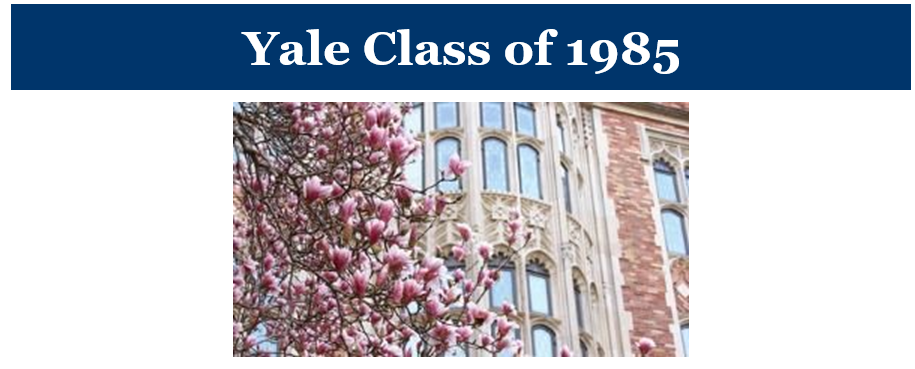 Dear Y'85 Classmates, 
And now for an I Love You, Man moment from your Yale '85 35th Reunion Co-Chairs. 
Over the past year, we have had the great privilege of stewarding our 35th reunion effort with the support of Sandy Haviland, Maria Burton, Erik Kulleseid, and the Yale Alumni Association staff, especially Stacey O'Donnell. It has been quite an adventure! For one thing, the two of us had never met, and now we know more about each other than would be wise to share here. But enough about us. 
As the reunion weekend approaches, our hearts have filled up with gratitude and appreciation for the trust you placed in us. Our time at Yale was special for so many reasons – not always easy, fun or smooth, and yet. ... In hearing from so many of you this year, we have realized more than ever that the most significant takeaway from our time together was, in fact, being together. We have scattered the globe, and life has a way of running its own course despite our best laid plans, hopes and dreams, but we will always have spent those years together, for better and for worse. And that matters even, or maybe especially, 35 years later, particularly during times such as these.
In lieu of our being able to gather in person in New Haven, here's what we have planned for this weekend: Zoom Calls organized by Residential College: Saturday and Sunday afternoons!
See the schedule below for your College info but feel free to join any calls you'd like!
The information on how to access these calls has been emailed to you. If you misplaced or didn't receive that email, please contact us and we can send it to you. 

And to keep you dancing around your home all weekend long – here's a Y85 pandemic playlist! And for those who need it, here are the words and music to Bright College Years.
We hope that this weekend's events will be a true celebration of our time together. So, Come As You Are and share the love – if not now, when?!
 With love and thanks,
Stuart and Justine
***
Zoom Call Schedule:
Saturday, May 23
1:30 p.m. ET
JE - David Kim (captain and Zoom host)
BR - Greg Alvarez (captain); Sandy Haviland (Zoom host)
DC - Rosie Reardon (captain); Stuart Wilkie (Zoom host)
TC - Andre/Elizabeth (captain); Steven Nelson (Zoom host)
Saturday, May 23
3 p.m. ET
BK - Paul Wimer (captain); Sandy Haviland (Zoom host)
ES - Gib Carey (captain and Zoom host)
TD - Alex Babbidge (captain); Stuart Wilkie (Zoom host)
Sunday, May 24
1:30 p.m. ET
SM - Tracey Ober (captain); Sandy Haviland (Zoom host)
PC - Steven Nelson (captain and Zoom host)
CC - Jim Salzman (captain); Stuart Wilkie (Zoom host)
Sunday, May 24
3 p.m. ET
SY - Hetty Nerod (captain); Hetty Nerod (Zoom host)
MC - Neil Herbsman (captain); Sandy Haviland (Zoom host)\