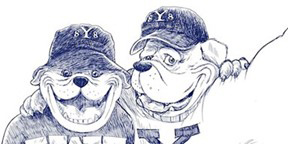 Dear Classmates, 
The Reunion Committee has been hard at work, and we want you to have the latest and greatest updates about our 35th Reunion coming up May 25-28 in Pierson College. P is for the P, for those in the know. 
First, reunion registration will go "live" in a few weeks, so be sure to check here. YAA will send an email out when it's time to sign up! Please note the current COVID protocols in place at Yale that also apply to Reunions. 
As we have done with prior reunions, the class is providing anonymous financial assistance to classmates who may need it to attend the reunion. This includes reunion fees as well as on-campus housing. Please contact our YAA representative Stephanie Hartnett who will handle all requests.  
If you haven't already booked on-campus housing, you can do so here. While the hotels closest to campus are all fully booked, you may want to try getting onto a waitlist, or you can try expanding your geographic search beyond downtown New Haven to see what else is available.  
Second, go to go.yale88.com/35th for information on reunion warm-up gatherings scheduled throughout March and April, as well as details and an "ask" for two class panels we are developing, for which we need your input!  
We're putting together a professionally edited video compilation, a quilt, if you will, of classmates' creativity across multiple genres - from film and music to photography, painting, novels, poetry and more. So, whether you're a full- or part-time artist or writer, or if you have any vocation you approach creatively, we want to hear from you! Use the Creatives panel submission form here. 
We're also curating a discussion of the many threads running through our lives as we approach our late '50s. The panel will include an overview of common experiences and themes along with classmates who will speak to a variety of coping mechanisms and strategies for living through trying times. If you have a story to tell, or a strategy to share, please complete the midlife panel submission form here. 
 More details and the full schedule of our reunion will be posted to the YAA page as it becomes available. 
We are so excited to see you in May! 
 Boola Boola, 
 Julie Heller, Class Secretary 
Carter Brooks  
Ursula Burton 
Nancy Edwards 
Fritz Reichenbach 
Colin Weil