Welcome, Yale Class of 1999!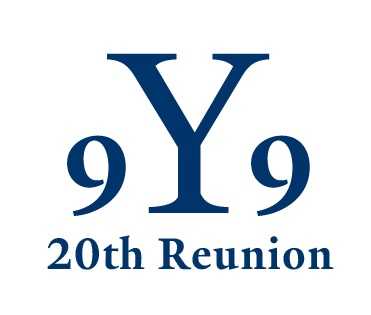 May 23-26, 2019
Classmates, friends, roommates, and partners. Our 20th Yale College reunion is here. 
Some of us return to campus often.  Some of us toast in Mory's Cups at Feb Club for Old People.  Some of us win Tony awards! Some of us are running for public office. Some of us teach and work at Yale. Many of us has families, spouses, partners.  And some of us don't.  Over one third of us are on the facebook page. And some of us have never set foot back in New Haven since graduation.  
Wherever you are in life, in the world, we invite you to return to New Haven, to Yale.
We have planned social hours, a singles event, Y99 Lightning Talks featuring our own classmates, and much, much more.                                  
Here's what to do next:
Register & sign up for campus accommodations here. All your questions about Camp Bulldog, children's day care during the weekend, can be found here.
Complete your Reunion Book profile. This book will be an encapsulation of our time in the last 20 years and where we are today!  Search your email inbox for a message entitled Yale Class of 1999 - Y'99 - 20th Reunion Book - APRIL 1st DEADLINE.  Note that the link is unique for each class member!
Join the Y99 facebook group here. We're having fun digging up the Old Campus (our freshmen facebook) photos! 
Start following Y99 on Instagram, @yale99reunion.  Start posting now and throughout the weekend
The reunion starts Thursday, May 23  and ends Sunday, May 26.  Yes, that is Memorial Day Weekend. You can find the program here.  
Come As You Are. Let's Push It.  Let's Party Like It's 1999 all over again, friends.
In Light, Truth, and Love,
Steven Hayhurst, Anita Kishore, Eric Peterson, Kimbie Taylor, Denitza Blagev, Jeremy Fain, Sunny Gettinger, Raf Lena, Anittah Patrick, and Rob Schlaff
To get involved, contact your classmates below!
Reunion Chairs:
Steve Hayhurst
Anita Kishore
Class Officers:
Eric Peterson
Kimbie Taylor
Attendance Chairs:
Sunny Gettinger
Denitza Blagev
Reunion Book Editors:
Rob Schlaff
Raf Lena
Communications Chair:
 TBA
Social Chair:
Jeremy Fain
Reunion Giving Co-Chairs:
Billy Cheung 
Sara Ellen Cusimano 
Joseph R. Cusimano 
Carla Patricia Shen 
Collister W. Johnson 
Questions about Reunion Giving? Contact Angelina Stackpole