Nearly 600 alumni returned to campus last week for the 2019 Yale Alumni Association Assembly and Yale Alumni Fund Convocation, networking with each other, hearing from university representatives, honoring outstanding volunteers, and participating in thoughtful conversations on what it means to be an alumni leader and how best to engage and benefit the Yale alumni community at large. 
The event is the largest annual in-person gathering of Yale volunteers and includes a wide variety of alumni leaders, ranging from YAA interest groups, regional clubs, and Yale College classes to volunteers and fundraisers for the Yale Alumni Fund. All assemble for two days of all-volunteer sessions, breakout groups, tours, discussions, and awards celebrations leading up to the final home football game of the year.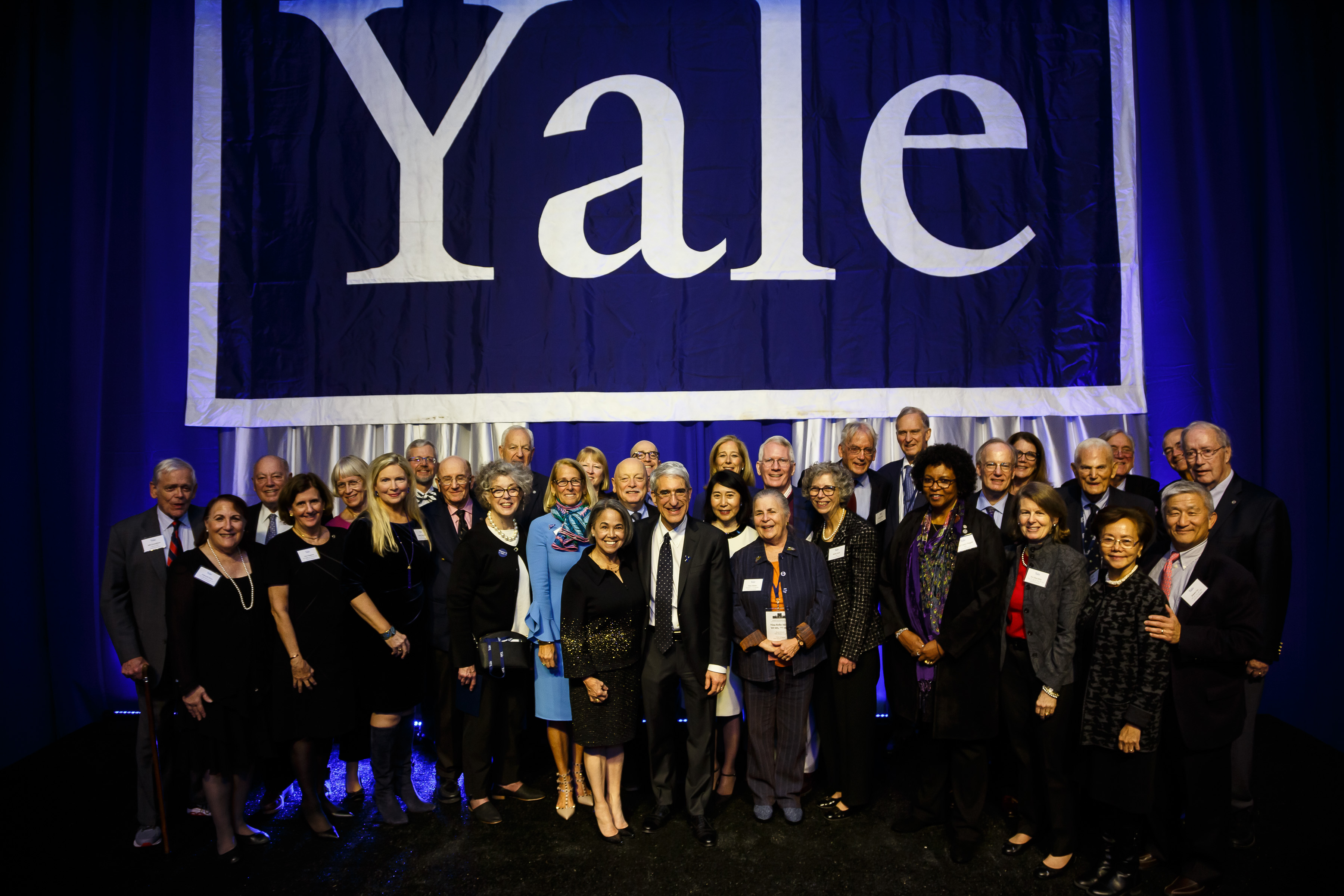 "Assembly and Convocation is a joyous occasion to welcome our alumni leaders back to campus," said Nancy Stratford '77, chair of the YAA Board of Governors. "And more than that, it's an opportunity to communicate all the work being done throughout the university and to share successes, discuss common challenges, and determine the best ways to work together as we strive to enhance the Yale experience for all alumni."
"There is a real energy you can feel when so many remarkable alumni leaders come together," said Michael Tom '83 MD, chair of the Yale Alumni Fund Board of Directors. "We are fortunate to have the finest and most dedicated volunteers of any university, and their collective ideas and experiences are the driving force behind all that we do."
The theme of this year's event was "Cultivating Leadership: Advancing Yale's Mission," which was highlighted during the Thursday and Friday morning sessions held in Sprague Hall and open to all Assembly and Convocation attendees.
These included a university update from President Peter Salovey '86 PhD; a dean's panel with Indy Burke (Forestry and Environmental Studies), Kerwin Charles (Management), Marvin Chun (Yale College), and Tamar Gendler '97 (Faculty of Arts and Sciences); a leadership conversation on women athletes with Athletics Director Vicky Chun and Lisa Brummel '81 and Virginia Gilder '79, co-owners of the WNBA franchise the Seattle Storm; and a trustee panel with current Yale trustees Joshua Bekenstein '80, Kathleen Walsh '77, '79 MPH, and Michael Warren '90.
"'Cultivating Leadership' is a fitting topic for a gathering of Yale alumni," Salovey said in his opening remarks to the attendees. "For over 300 years, Yale graduates have led – spearheading transformations across all sectors and around the globe. Looking ahead, we see a world that needs the leadership of Yale graduates more than ever. The world needs people who love learning and who believe in using human ingenuity to improve lives. As noted in our mission statement, Yale educates 'aspiring leaders worldwide who serve all sectors of society.' Leadership is a part of Yale's identity and can be traced to our founding."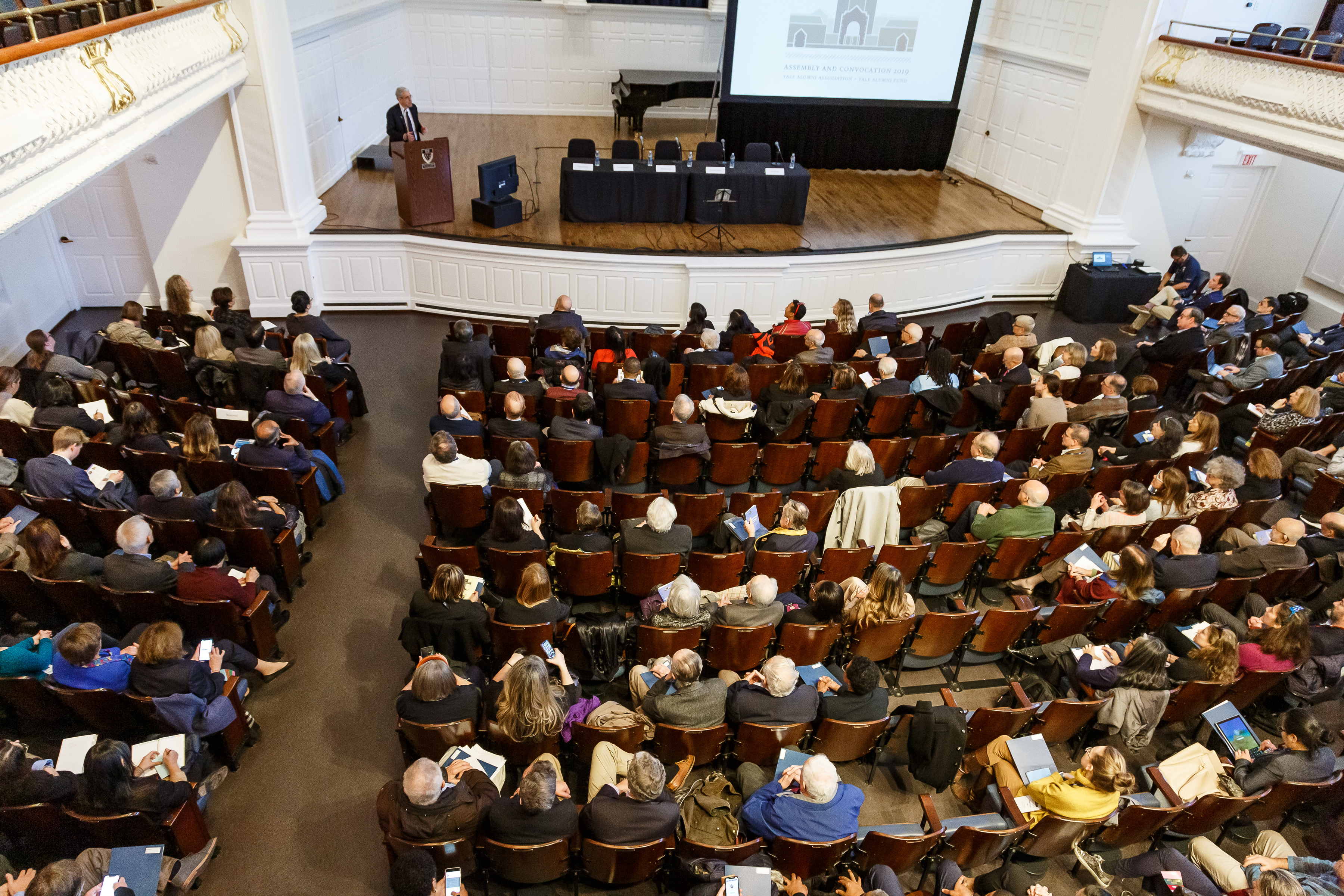 Five of those outstanding leaders were honored Thursday night with the Yale Medal, the highest honor bestowed by the YAA: Nancy Marx Better '84, William H. Donaldson '53, Caroline Hsiao Van '79, John Walsh '61, and Scott R. Williamson '80. They were feted during a special dinner and ceremony that featured a celebration of this year's awardees and recognition of the winners from previous years, dating back seven decades and including more than 300 recipients.
The Yale Medal dinner was one of many recognition events held during this year's Assembly and Convocation. Outstanding individual volunteers and alumni organizations were recognized by the YAA, the Yale Alumni Fund, and the Alumni Schools Committee in separate ceremonies that spotlighted the Yale-Jefferson Awards, ASC Awards, Yale Alumni Fund Chairman's Awards, YAA Leadership Awards, and YAA Board of Governors Excellence Awards.
"These awards ceremonies are a central part of Assembly and Convocation," said Jocelyn Kane, managing director of the Yale Alumni Fund. "They publicly recognize the important work executed by volunteers across the Yale alumni universe. And honoring volunteers in person makes it even more meaningful."
A smaller group of alumni leaders arrived in New Haven the day before Assembly and Convocation for the YAA Board of Governors meetings, which are held four times during each academic year. The day featured committee meetings focusing on volunteer leadership, interest groups, and alumni-to-alumni and alumni-to-student mentoring, with a plenary session held Wednesday evening to recap the day's work and included general addresses from YAA Executive Director Weili Cheng '77, Vice President for Alumni Affairs and Development Joan O'Neill, and the YAA's executive officers.
"It is a packed three days, but also an uplifting and enlightening three days," said Cheng. "I always leave Assembly and Convocation week impressed and inspired. We have a wonderful alumni community with such a strong desire to give back, both to the university and to each other. I'm proud to be a part of it and for our office to be able to support them in their efforts."